Fans are not getting enough of Freddie Mercury it seems. Just the other day in a poll organised by BBC, Queen -- the band Mercury fronted -- upstaged the Beatles to win the title of the greatest British band of all time.
Queen finished 400 votes ahead of the Beatles when more than 20,000 listeners were asked to choose from among five bands. Mercury's band also beat The Rolling Stones, who came third, followed by Oasis and Take That.
And now rumours say Johnny Depp, one of Hollywood's more risk-taking stars, will play the rock star in a biopic.
According to the New Zealand Herald, Mercury's former band mate and lead guitarist Brian May has confirmed Depp is in line to take the role of the legendary rocker. Mercury's distinctive voice, critics say which ranged across four octaves, was a key factor in the success of the band's hits like Bohemian Rhapsody. The song enjoyed a terrific revival when it was featured in the hit film Wayne's World in 1992. It has since been voted Britain's best single of all time in a Guinness Book of British Hit Singles poll, defeating John Lennon's Imagine and Beatles' Hey Jude.
"Discussions are at an early stage," May said on his web site. "He [Depp] would be a worthy counterpart for Freddie on screen. I don't think I can say any more right now."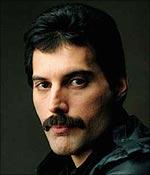 Robert De Niro's company Tribeca Productions is said to be behind the project. De Niro has known May and Queen's drummer Roger Taylor since they met at the Venice Film Festival in 1996. The Hollywood star put some of his own money into the $12 million hit stage musical, We Will Rock You. It was originally going to be about Mercury and the band. But the band members decided that would be too embarrassing for them, according to The Herald. Now in its fifth year, it has become one of the hottest musicals in British history.
Mercury, who died in 1991 at age 45 in London from complications arising from AIDS, seldom spoke of his Indian heritage. He was born to Parsi parents Bomi and Jes Balsara, and spent his childhood studying in a school in the hill station of Panchgani in Maharashtra, India. His family moved to England when he was about 15. It was only when he died that people learnt of his Indian connection. It would be interesting to know if there would be an actor playing the younger Mercury in the film.
Meanwhile, there is no news on the fate of the big budget movie project Shantaram, which is inspired by the life of an Australian fugitive Gregory David Roberts, who had a series of adventures in Mumbai ranging from running a free medical clinic for slum dwellers to selling drugs and working with the Afghan mujahideens. Depp was going to play the Australian and also co-produce the film, which was to roll in India by the middle of 2007. But when director Peter Weir quit the project, work on it came to a standstill.