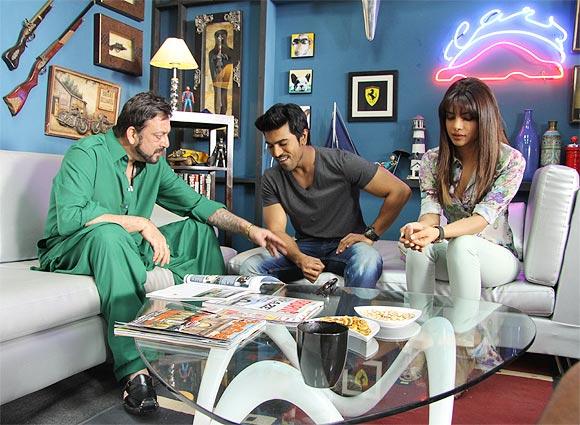 Amitabh Bachchan's character  in the 1973
Zanjeer
was denied the 'privilege' of singing in the film, in keeping with his sober, no-nonsense personality.
In the remake, however, Ram Charan Teja -- who plays Vijay -- will get to sing.
This decision was taken in the light of Ram Charan's latest Telugu blockbuster
Naayak
, where his singing and dancing have brought the collective Andhra audience to its feet.
Earlier, it had been decided that Ram Charan's Vijay in
Zanjeer
would sing and dance only in the film's Telugu version, to save his Telugu fans from disappointment.
Says a source from Hyderabad, "There are two different versions of Zanjeer being made --
in Hindi and Telugu. Now, the cop in Amitabh Bachchan's
Zanjeer
neither sang nor danced. In fact, many superstars of the time like Dev Anand and Dharmendra had turned down the role because of the song-less protagonist.
"In the remake, director Apoorva Lakhia was absolutely certain that Ram Charan Teja won't sing. But now, there will be a song sequence where Ram Charan will shake a leg with costar Priyanka Chopra. Lakhia is still adamant on not giving his hero any songs, so the number would either be a dream sequence or a part of the end-titles." 
According to the source, Ram Charan's fans have threatened to burn down theatres screening the Telugu version of
Zanjeer
if he doesn't sing and dance.