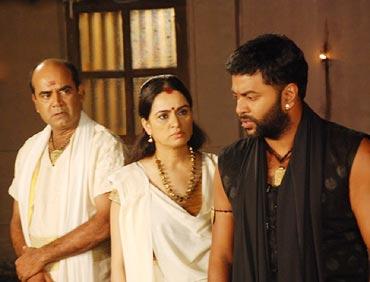 Director V K Prakash is presenting an adaptation of William Shakespeare's
Hamlet
in his latest film
Karmayogi
.
'Karmayogi
has been established in the feudal era and shot amidst the picturesque landscape of Kerala. The story revolves around traditions, relationships, wealth and combat. The movie encapsulates the loss and turmoil in a man's life, depicting heart-wrenching emotions like jealousy, suspicion, betrayal, hatred, vengeance and greed,' says the director.
Kelipathram
, a traditional art form of Kerala is the backdrop for the story.
Indrajith, Thalaivasal Vijay, Padmini Kolhapure, Nithya Menon and Saiju Kurup constitute the cast
of the film. 
Riza Bawa, (who won the award for the best dubbing artiste in the recently announced Kerala State film awards for
Thalaivasal Vijay
), is also a part of the film.
The film is scripted by Balram Mattannoor who had earlier written the script of
Kaliyattam
, directed by Jayaraj. Balram also intends to write scripts based on Shakespeare's
Macbeth
and
King
Lear
.
Cinematography is done R D Rajasekhar, Ouseppachan has given the music for the film.
Indrajith says 'I have played two roles, that of the father and the son, in the film. It is a complex emotional drama and it was a wonderful experience for me."
Karmayogi
will hit the theatres in June.