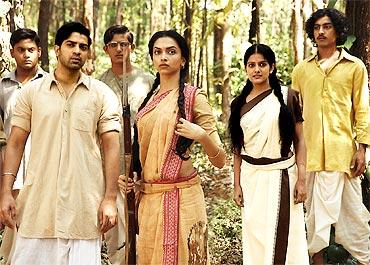 Deepika Padukone sports a traditional look in Khelein Hum Jee Jaan Sey, a period film based on the Chittagong Uprising of 1930.
The film is based on the book Do and Die by Manini Chatterjee.
Khelein Hum Jee Jaan Sey is directed by Ashutosh Gowariker and stars Abhishek Bachchan and Deepika in the lead roles.
Earlier Asin Thotumkal was supposed to do Deepika's role but she opted out of the project.
The lyrics for the film are written by Javed Akhtar and music composed by Sohail Sen.
Khelein Hum Jee Jaan Sey is being shot in Goa and is scheduled for release on December 3, 2010.