There are three kinds of films: one that tells a story; the other that tells what happens in between a story. And the third that is devoid of any content whatsoever.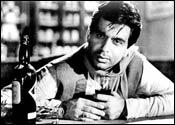 There are three kinds of actors as well. One that evolves into a different person with every film. The second that restricts his talent to a fixed formula or style that clicks. And the third that cannot even pretend to act.
Naturally, the first group is ideal. They stay away (to an extent) from the run-of-the-mill. They try and get into a new avatar every so often. They grow beyond their celebrity status to become the character they portray. These are the actors whom you can trust to be different. They are also the ones who stick around longest.
Here are a few names that, in my opinion, qualify as trustworthy actors in Hindi films:
Dilip Kumar: Dilip Kumar's filmography is to die for. The legend has experimented with all shades of popular emotion. Even if he did many tragic roles, the treatment was always strikingly different. The depressed lover of Devdas was unlike the blind poet of Deedar or the insecure invalid of Aadmi. He could be gallant and flirtatious (Aan); timid and roguish (Ram Aur Shyam); a prince (Mughal-e-Azam), a revolutionary (Shaheed) and a villager (Gopi). Even in the latter phase of his career, Dilip Kumar showed that the process of evolving as an actor is never-ending, delivering one powerhouse performance after another in Shakti, Mashaal, Karma and Saudagar.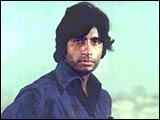 Amitabh Bachchan: He first got slotted as the angry young man. But there is no way you can overlook his range as a performer. Even in his pre-Zanjeer days, Big B was on a roll: hapless and mute in Reshma Aur Shera; compassionate doctor in Anand; regretful jaggery seller in Saudagar. Even as AB's angry image prospered with Deewar, Kaala Patthar, Sholay, Shaan, Shakti, Coolie and Mard, the comic side of him emerged strong with Chupke Chupke, Mr Natwarlal, Amar Akbar Anthony and Namak Halal. He could be revengeful as well. Take Trishul, Do Anjaane and Aakhri Raasta. Abhimaan, Kabhi Kabhie and Silsila triggered the romantic in him. At 61, he continues to keep the audience glued to their seats, exploring new facets of his oeuvre in Aks, Aankhen, Armaan, Baghban and Khakee.
Sanjeev Kumar: Versatile. That was Hari Bhai, as he was fondly called. From the swashbuckling hero in Raja Aur Runk, Sanjeev Kumar graduated to playing memorable characters in Anubhav, Parichay, Koshish, Sholay, Trishul, Grihapravesh, Shatranj Ke Khiladi, Mausam, Aandhi and Angoor. Not to forget his unbeatable nine roles in Naya Din Nayi Raat. Restrained, spontaneous, animated, sophisticated, rustic, burlesque -- he could be them all.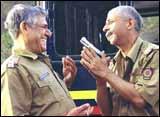 Naseeruddin Shah: Offbeat or commercial, Naseeruddin Shah rocks. He has played intense, vulnerable, insecure, diabolical, insane, tender, complex and comic personalities through wonderful films like Sparsh, Umrao Jaan, Mandi, Bhumika, Mirch Masala, Albert Pinto Ko Gussa Kyon Aata Hai, Masoom, Jaane Bhi Do Yaaron, Bazaar, Pestonjee and Drohkaal. Even in mainstream cinema like Jalwa, Sir, Mohra, Bombay Boys and the recent Maqbool, Naseer's sensational screen presence and histrionic skills are praiseworthy.
Om Puri: There is something striking about Om Puri. He has a hypnotic effect onscreen. He can be idealistic (Ardh Satya) as well as sleazy (Chachi 420), with amazing conviction. He can be warm (Prem Rog) and menacing (Narsimha) with equal ease. Whether a tribal (Aakrosh), a politician (Kurukshetra) or a cop -- honest (Gupt) or dishonest (Maqbool) -- Om Puri has mastered the art making his characters come alive.
Anil Kapoor: What makes AK unique is his sincerity towards his roles. His method acting skills don't seem rehearsed at all: he was the picture of rage in Tezaab; greedy go-getter in Ram Lakhan; greenhorn lover boy in Chameli Ki Shaadi;  simpleton in Eeshwar; silent, soft-spoken Kunwarji in Lamhe and the flamboyant composer of Taal. Kapoor shines even in mediocre films.
Sridevi: She is an original, shrill, childish voice included. In an industry where actresses stuck to playing idealistic Sati Savitris, pretty props or avenging angels, Sridevi was a refreshing change. Using her expressive eyes and lithe body to good effect, Sri created reel magic. In Sadma, she was the girl who loses her memory and mental balance. In a brief role in Jaanbaaz, she was a helpless drug addict. Variety was the order of her career. Take the arrogant journalist of Mr India; sensitive middle class girl of Chandni; identical twins of Chaalbaaz; mother and daughter of Lamhe; prisoner of Gumraah; tyrannical boss of Laadla and greedy housewife of Judaai. What's more, she even played a snake in Nagina and Nigahen!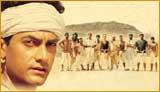 Aamir Khan: Okay, so he is perfect. But who's complaining? Aamir Khan is a treat to watch. His responsible, sensible choice of films and roles (with a few exceptions) makes him that rare actor whose films are eagerly anticipated. The good thing about Aamir is, he has no fixed image. When he came into the industry, he was branded the chocolate-faced hero. He blossomed with Jo Jeeta Wohi Sikander, Dil Hai Ki Manta Nahin, Hum Hain Rahi Pyaar Ke, Rangeela, Sarfarosh, Lagaan and Dil Chahta Hai.
Anupam Kher: What can I say about a man who was fantastic in his debut? Remember Anupam Kher's realistic portrayal of an old man mourning his son's loss in Saaransh? He won the sympathy votes again for his reformed alcoholic act in Daddy. Kher has done his share of comedy: Ram Lakhan, Dil, Dil Hai Ki Manta Nahin, Lamhe and Dilwale Dulhania Le Jayenge. And his most memorable villain remains Dr Dang of Karma. While most actors are only now attempting to get 'out of the closet', Kher played a homosexual in Mast Kalander way back in 1991. Kher is worth more than he is given credit for.
Urmila Matondkar: There is more to Urmila Matondkar than perfect makeup, streaked hair, fancy clothes and accessories. Her transition from a pretty face to an actress of substance has been as dramatic as her physical makeover. Like Sridevi, the camera doesn't intimidate Urmila. The result is terrific acting in Rangeela, Kaun, Pyaar Tune Kya Kiya, Bhoot, Pinjar, Tehzeeb and Ek Hasina Thi.
Actors like Nana Patekar, Sunny Deol, Ajay Devgan and Shah Rukh Khan have tried to be different. But just when you applaud them for treading the unconventional path, they walk the cliché lane. And the novel becomes repetitive. If you once adored the actor, you now know exactly what is coming in each role.
Patekar's raw anger, striking intensity and demented laughter lost their appeal when all his roles post-Krantiveer fell into the same mould. It got tiresome watching Deol kick butt and yell his lungs hoarse with anti-Pakistan dialogues. First, SRK overdid his bad boy act with three consecutive negative roles -- Baazigar, Darr and Anjaam. Now, SRK is synonymous with Valentine's Day mush. Anyway, Raj, Rahul, Devdas or Asoka -- these days, it is always SRK onscreen, never the character.
Ajay Devgan, too, is in danger of making the same mistake. He has played the smug, cool, confident dude (Qayamat, Chori Chori, Zameen, Parwana, LoC-Kargil, Gangaajal and Khakee) in far too many films for comfort. Though he dared to be different in Zakhm, Hum Dil De Chuke Sanam, The Legend of Bhagat Singh and Bhoot. Maybe he needs a vacation from the kind of roles he is doing.
Change is a good thing. But unless it is holistic, superficial tweaks like hairstyles, wardrobe and eye colours are pretty much inconsequential.
You have to lose yourself to find a new identity.