'Akshaye Khanna was always the first choice. He was the first guy I ever met for that film.'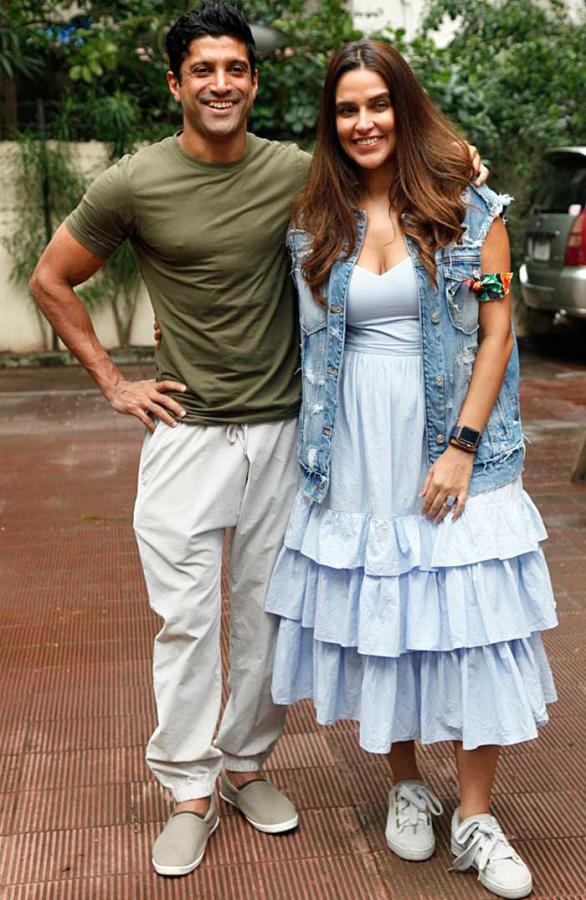 Farhan Akhtar had many interesting things to tell Neha Dhupia on her chat show No Filter Neha.
In Farhan Akhtar on Fire, he abandoned correct speak and flung caution to the wind :)))
A quick sample of Farhan's revelations:
Good gossip columnist:
Vikram Phadnis.
Good girl gone bad:
Ekta Kapoor.
Akshaye: The first choice for Dil Chahta Hai.
Akshaye Khanna was always the first choice.
He was the first guy I ever met for that film.
Actually, I met him because I wanted to cast him in the role Aamir eventually played. So I spoke to him for the role that was Aakash.
Farhan's dream cast for Dil Chahta Hai:
I wanted him (Akshaye Khanna) to play Aakash.
I wanted Hrithik as Sameer and I wanted Abhishek as Sid.
When the ship authorities asked Farhan to stop playing music during the filming of Dil Dhadakne Do:
In all fairness, everyone took turns to DJing.
More often than not, I was dancing and partying a lot less and enjoying playing music for everyone a lot more.
We would go, take the speakers that we use for our Nagra system play back so that would come, the amp would be there and we would hook up the IPad or the phone and play music.
It was great because all the guests started joining us, the other people on that ship would come and party with us.
Finally, the authority of the ship said you will have to stop doing it because it's getting a bit too crowded out there, on that deck, and also there is not enough people going to the discotheque that we would like them to go.
Ranveer and his 11 suitcases:
When we were getting out of the ship, something happened and they were like suitcase aap dal dijiye.
So I said yeh hai mera suitcase.
That guy looked at me and said aap do suitcase leke aaye?
So I said haan kyon? Kitne suitcase lane padnegey.
Baba ke paas toh 11 suitcase hai.
So I asked Ranveer how have you got 11 suitcases?
He's like all my gym stuff is in one, all my this is in one thing, all my night clothes to party in one thing.
I'm like wow, yeah. Mere paas two suitcases hai. This is not right. I have to up my suitcase count.
He's like, 'Buddy, I don't want to repeat my clothes!'