Singer-composer Samira Koppikar recently belted out songs like Aaj phir tum pe (Hate Story 2) and Maati ka palang (NH10). More recently, you must have heard her sing Bairaagi (Bareilly Ki Barfi).
She lives in a neatly done-up home, which also houses her studio on the terrace.
The terrace looks relaxing, with benches set on an artificial grass carpet. It's a good place to hang out.
"This studio was made around two years ago. It made my life easier," Samira says. "Now, I can record and call musicians and singers here."
Samira tells Jahnavi Patel/Rediff.com what its like to be a Bollywood singer and how she achieved it.
And then, she sings for you... do check out the videos.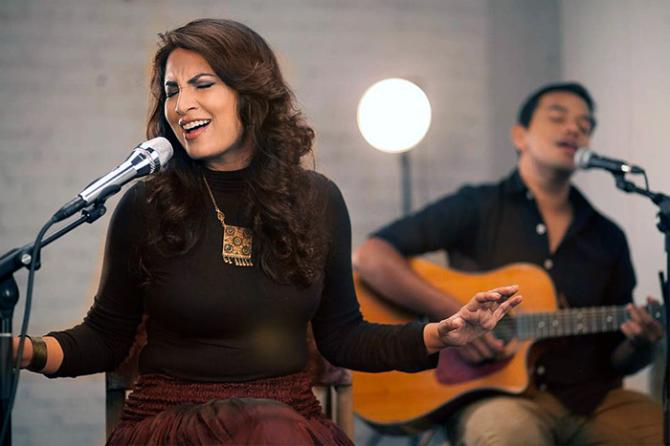 IMAGE: Samira lost in her performance. Photograph: Kind courtesy Samira Koppikar/Instagram

Tell us about yourself.
My family comes from a place called Gokarna (in Karnataka) but I was born and brought up in Bandra (Mumbai's posh western suburb) itself.
My grandmothers from both sides were classical singers.
My dad was a doctor; he had a clinic in the building where we lived. He was known as the musical cardiologist as he loved music. Unfortunately, he passed away.
Was it difficult to convince your parents about taking up singing as a profession?
I have been blessed with open-minded parents. They have always supported me.
My relatives expected me to become a doctor like my father, since we owned a nursing home too. But my parents always told me to do what I love.
They enrolled me for Hindustani classical training when I was four years old.
I learnt music at different points in time but I also finished my studies. I did a course in interior design. Parallelly, I had a band called Ansh in college and we used to do shows.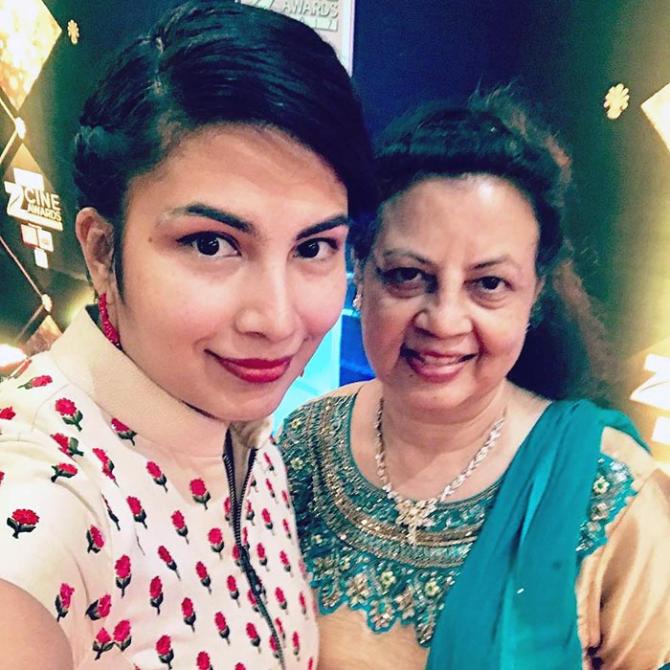 IMAGE: Samira with her mother at the Zee Cine Awards. Photograph: Kind courtesy Samira Koppikar/Instagram
Was interior designing a career alternative?
We always feel there should be something to fall back on. So parents always say, ye kar lo (do this) but get yourself educated because there are no guarantees. Bollywood and music is not an easy line.
I didn't have any godfather in this profession. No one from my immediate family is in the movies.
I said I would take a chance.
You started by singing advertising jingles.
You have to deliver jingles fast -- in 20-30 seconds and you have to deliver whatever the music director says.
It was a good learning experience; it helped my vocals a lot.
Also, I made contacts so it helped.
Bareilly Ki Barfi singer Samira Koppikar sings a medley of her latest songs. Video: Afsar Dayatar/Rediff.com
How did you get interested in composing music?
The world knows me as a singer but I have been composing even before that.
I have been composing for the past three-four years. Before that, I would write songs in English and then in Hindi. Composing comes naturally to me.
I enjoy the entire process of making a song -- from song writing, lyrics, putting a tune to it to taking it to the final stage of production, mixing and everything.
Is this industry an easy place to be in?
No, it's not (laughs).
Have you had your share of struggles?
Yes, I still do.
You meet all sorts of interesting as well as strange people. I have been on guard at times.
My mother used to get worried when I would go for recordings at night. I would take my driver inside the studio because I used to get scared.
Did you, at any point, have doubts about your choice of career?
Yes. When you go through struggles in the industry, you feel lost a lot of times. What kept me going was the music itself.
Today, I am in a good place because I create my music regularly.
When I started off as a singer, there were days where I had to face a lot of politics. I saw a lot of my friends go through it as well.
It takes a lot to hold on.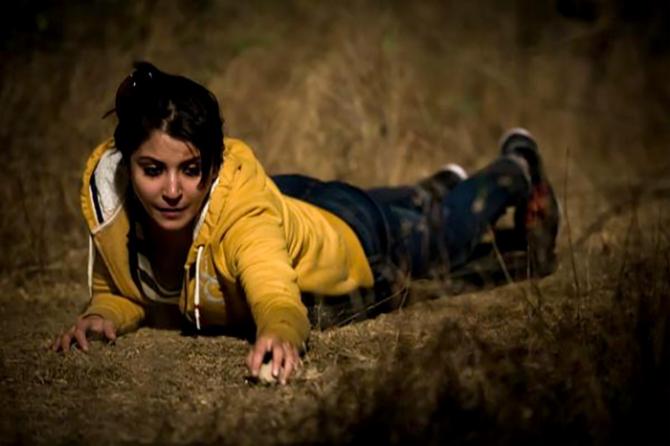 IMAGE: Anushka Sharma in NH10
What was the turning point for you?
I would say getting a platform like a NH10 with Phantom Films and Anushka Sharma. It was purely by chance because Deepa Motwani heard one of my songs at a friend's place. She asked me what I was doing with the music.
I told her I had composed the songs and was planning to release them.
She called me to her office the next day.
Maati ka palang was such a dark song but people still loved it. The turning point was when I was recognised as a composer and the song was also nominated for best lyrics.
There was this fear that people would say Samira is a psycho who creates 'dark music.' Even (director) Navdeep (Singh) asked me if I had really made the song.
How did you cope financially during your struggling days?
I did not want to do shows just for the sake of it.
I supported myself by doing jingles. Also, modelling.
I haven't taken money from my parents.
Some songs never get old, as Samira Koppikar proves with these two timesless hit songs. Video: Afsar Dayatar/Rediff.com
There was this entire discussion about female singers not getting enough part in a song. What is your take on it?
This doesn't have to do only with singing; the entire industry is very patriarchal.
Most films are based around superstars or actors.
But things have opened up. Today, there are films like Queen, Simran, Vidya Balan's films, so many other films, where the film revolves around women.
Largely, if you see the Bhatt songs, most of them are male (singers).
Vidya is a friend of mine and we were discussing Hamari Adhuri Kahani. A lot of that film was around her character but, ironically, there was just one song sung by a female.
The role of the female voice has diminished. Most composers are male and a lot of them sing their own songs.
Earlier, Ashaji (Bhosle), Lataji (Mangeshkar), Alka Yagnik were ruling. There were so many female solo songs.
Today there are very few or there are these item songs.
Actors are also singing their own songs now.
In the earlier days, Kishore Kumar was an actor and singer. It felt very natural to me.
I am not saying all actors are good or bad singers; there are some who are average, some who are good... I think it's more a gimmick for the film.
There are some who enjoy singing also. I worked in a film (Bareilly Ki Barfi) recently where Ayushmann (Khurrana) sang a version of a song. I don't think there's anything wrong with it.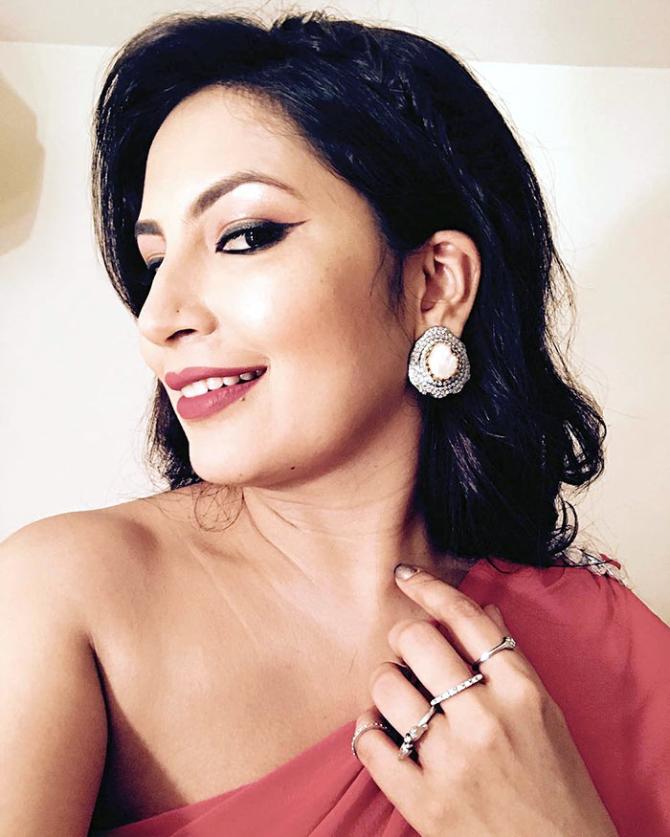 IMAGE: Samira Koppikar's pretty selfie moment. Photograph: Kind courtesy, Samira Koppikar/Instagram.
You have sung songs where you haven't composed the music. Has the composer in you influenced the singer?
It used to happen in the beginning.
But what I do is that when I sing for someone else, I go as a singer.
I sing the song only if I like it. I have refused songs in the past where I felt the lyrics haven't been flattering.
When I sing someone else's composition, I try and do justice to that song. I shut myself off from my composer brain or heart.
When I am a composer, I guide other singers. So I enjoy both roles.
Have lyrics taken a backseat?
Music has become gimmicky.
The attention span is very short now; I understand that because the culture has become like that.
Even when I make a song, they say, 'Arrey yaar, yeh four-and-a-half minutes ka gaana hai.'
The focus now is on the hook line. Songs which stay with you in the long term, which are timeless, are songs where you can relate to the lyrics.
I believe lyrics are very important.
I focus on longevity and timelessness. I want to make good music that will last.
Not that I have a problem making a dance song but I will make it in a way where there will be different requirements.
Do you think the shelf life of songs has shortened?
Yes. The way music is consumed has also changed.
Earlier, people used to listen to music on the radio and people had CDs, records and tapes.
Today, music is consumed on the go.
There is so much entertainment available because of the internet and everything else -- music is just one of them. There are television soaps, web series... in that sense, things have changed.
There is good music made even today. It's not that people don't attempt to make good music.
Why do people make remixes? Because those melodies are evergreen, people can relate to them and they are familiar with them.
My first song was Aaj phir tum pe pyaar Aaya Hai (Hate Story 2), which luckily turned out to be a good remix and did very well.
Today, there are so many songs crying out for attention. Every week, there are three-four films releasing. There are so many songs from those films and they are all looking out for attention. So the shelf life has become short.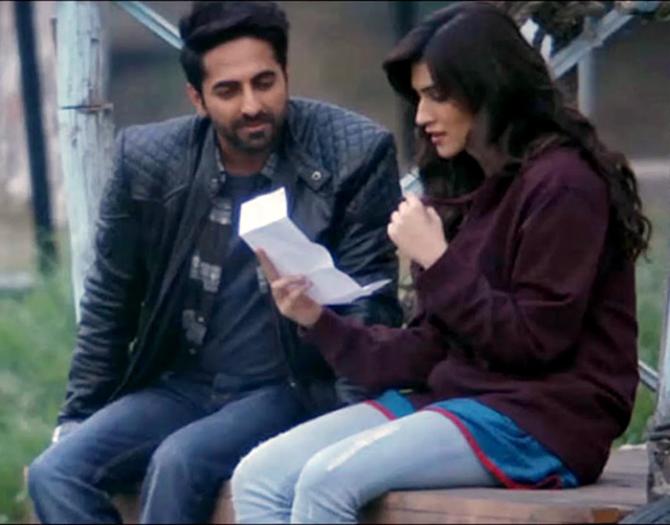 IMAGE: Kriti Sanon and Ayushmann Khurrana in Bareilly Ki Barfi

Do you think songs draw in audiences to theatres?
Yes. If you see Emraan Hashmi's songs in the past, they've been really big hits.
There have been films where probably the movie didn't do so well but the songs did and the film broke even.
People have understood that music is very important to a film unless, of course, the songs are a part of the background score. I am not talking about those. I am talking about commercial songs.
What are the projects that you're working on?
There's a film called Tadka in the pipeline. It's an interesting movie about food.
There's another with Emraan Hashmi.