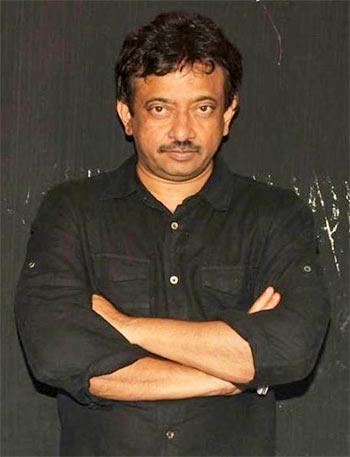 Ram Gopal Varma, who has been explicitly tweeting his opinion on whatever comes to his mind, doesn't really care what people think about him.
He believes in the right to expression and seems to enjoy expressing himself on social media.
His Mumbai-based office, Company -- which was recently inaugurated by Amitabh Bachchan -- looks like it could be the set for a film.
For now, it is the venue for his interview with Jahnavi Patel/Rediff.com, where he discusses -- among other things -- his latest film, Veerappan.
Why did you decide to make a film on Veerappan?
Veerappan is a unique character in the crime history of the world. Without the backing of an organisation or a radical, rebel state; without any resources, he made the police of three states chase after him for more than 20 years. During this time, he inflicted so much of damage and killed more than 97 policemen.
For me, it was vital that this story be known to everyone.
How is it even possible for a man like Veerappan to exist or (for someone) to become Veerappan?
How did you go about the research and did you find out things you weren't aware of?
Quite a few things, I think.
There are so many sources like his ex-gang members, people who interacted with him over a period of time, his wife, the police officials who tried to study him. So you get many perceptions.
Different people's experience will be different and what they have heard is different so, obviously, there were many things that were contradictory in nature.
For example, Muthulakshmi (Veerappan's wife) thinks that her husband is the nicest guy in the world.
One guy told me Veerappan is the biggest darpok (coward) and another told me he is the most dangerous guy ever.
All this information is contradictory in nature but I think he could all be that depending on the time and situation.
Whatever he is, you can't deny what he has done. Eventually, you judge a person by his deeds.
There were plenty things that I discovered about him in the course of my research.
IMAGE: Lisa Ray, Usha Jadhav, Ram Gopal Varma, Sachiin Joshi and Anil Thadani at the Veerappan trailer launch.
How did you go about casting for the film?
I just went by who I thought would suit the role.
I wanted to cast a new guy as Veerappan because you'll then look at the character as Veerappan. If a known actor was cast as Veerappan, it would be like watching a performance. That is why Veerappan is being appreciated a lot.
I cast the rest of the characters as per the requirement of the script.
You also mentioned about Veerappan wanting to kidnap Rajinikanth in an interview…
Basically, he was a very publicity hungry person. He wanted to be in the news all the time and wanted to be known throughout the world. He felt if Phoolan Devi could be famous across India, he had done deeds that were far bigger, more dangerous and more powerful.
After (kidnapping Kannada superstar) Rajkumar, Rajinikanth was a natural extension because he had to do something bigger than Rajkumar. He got international publicity because of Rajkumar's kidnap.
Anybody who is crazy about publicity would want to do something bigger, so Rajinikanth was a natural extension.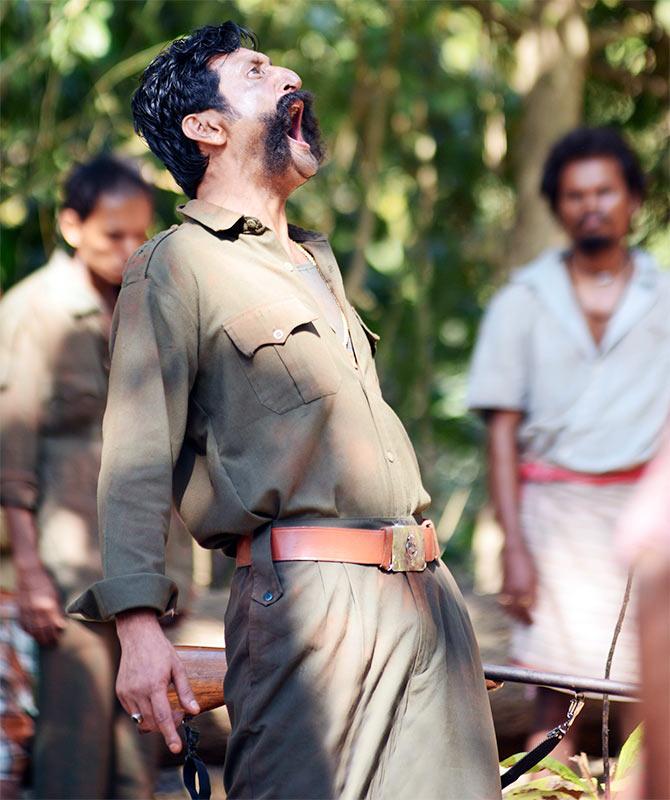 IMAGE: Sandeep Bharadwaj in and as Veerappan.
Was there any difficulty while filming or during the research process?
Not really. I was well-prepared. Sources helped me get the research material and make things possible so I would say that the difficulty wasn't much.

Was there any issue with the censor board?
No. The film has been given an A certificate and we expected that because it is a violent film.

In most of your films, your characters are dark or have shades of grey.
I have affinity towards people who are larger than life and rebellious in nature; to study them and their emotional aspects interests me as a person.

Do you think social media is the best way to express yourself?
Undoubtedly. I think Twitter and everything on social media is unadulterated and comes across exactly the way one intends (it) to.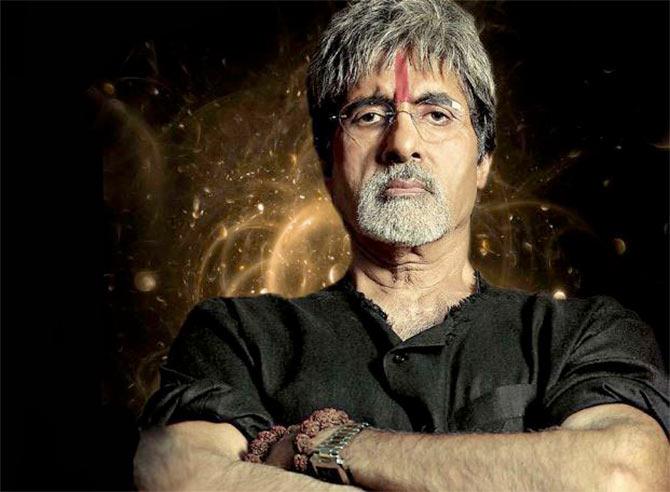 IMAGE: Amitabh Bachchan in Sarkar.
You share a good equation with Amitabh Bachchan.
It is nothing but the fact that Mr Bachchan believes I am very sincere towards my work. It's just a working relationship.

What is the update on Sarkar 3?
It has been written and is being fine-tuned. We should start something in September.

The Khans are currently ruling the industry. Do you think there will be any superstar after them?
I don't believe in predicting things in this industry; anything can happen anytime here.
I am busy doing my kind of films so I don't really think of what happens generally in the industry.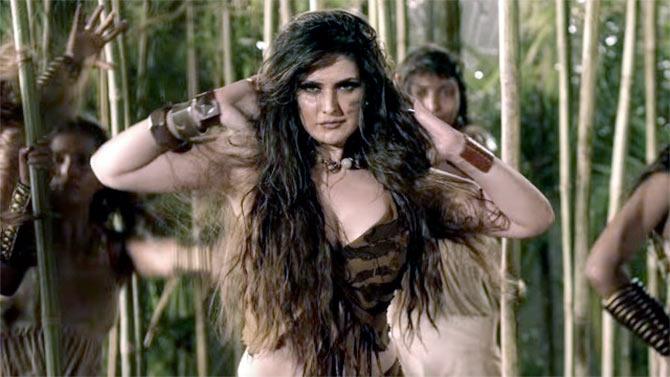 IMAGE: Zarine Khan in the song Khallas from Veerappan.
Zarine Khan has an item number in Veerappan and you had a very different way of putting that across on your Twitter account (Varma had tweeted: 'Sizzling Zarine Hot Sexy Khan Khallas f****g the Khallas Company song.' He also said, 'What I really love about Zarine is she is truly very large everywhere..especially in her heart and her lovely mind'). Why did you decide to tweet about the song in this manner?
That's how I express my feelings and, whatever I feel, I put that down on Twitter.

So whatever you put on Twitter is exactly how you feel?
Of course. That's the whole point of putting (it) on Twitter.

Your tweets have got a lot of backlash.
It's a democratic country where everyone has the right to say whatever they want. Everyone has a mouth and every mouth has an opinion.
If I have the right to say (something), they have the right to say (what they want to) about what I say. I think it's a fair deal.
Also, I don't have the time to think about other people's opinion about me. I am too busy with my own opinions so I really don't care about what people say about me.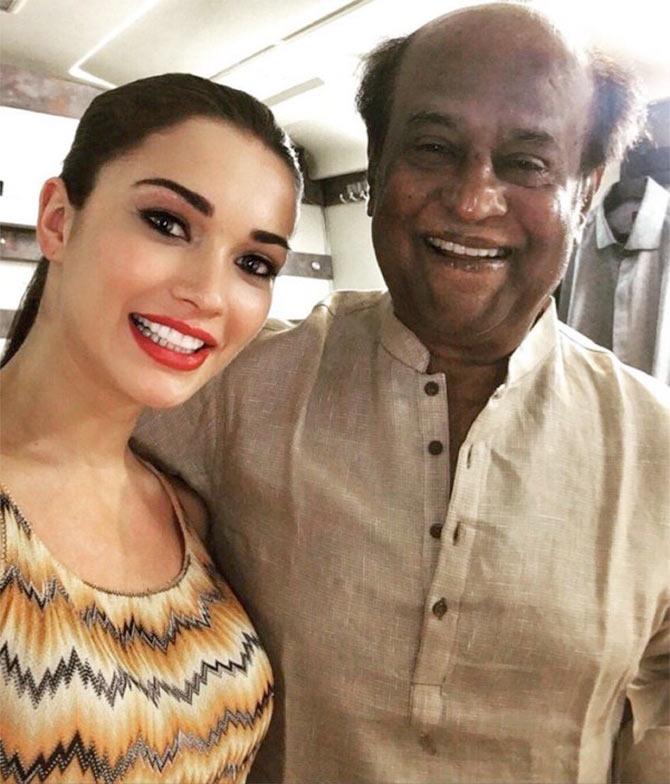 IMAGE: Amy Jackson and Rajinikanth. Photograph: Ram Gopal Varma/Twitter
You had tweeted about Rajinikanth and got a lot of criticism. To what extent do looks matter in this industry?
I gave a compliment to Rajinikanth that, in spite of not having looks, he became a superstar. Rajinikanth's dumb fans didn't understand that.
It's a backhanded compliment.
Rajinikanth has already proved that looks are not important. What's left for anyone to say?

Do you think there'll be a time in the future where the Hollywood films will do better business than Bollywood in India?
It is already happening; they are performing much better than all of our films so I don't think it is about the future.
They are far more talented filmmakers and make better films than us.
Eventually the audience want to cater to the best and they feel Hollywood films are better, which is the truth.
It will be even tougher for Hindi films in the future because Hollywood tasted blood with the kind of collection Jungle Book has got -- some $35 million in India. It's a huge thing for a Hollywood film in India.
How important is the box office collection for a film and does it matter to you?
I am not a businessman. I am a filmmaker and my job is to make a film to the best of my ability. That's all I would say.
After that, I leave it to the audience.