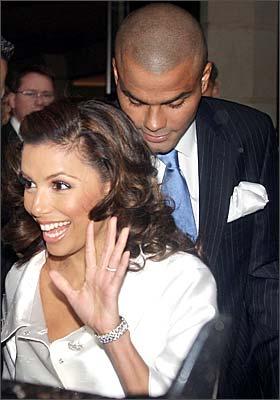 The hottest of the Desperate Housewives is done with her honeymoon.
Eva Longoria is back at work on the Universal Studios lot following her wedding to San Antonio Spurs basketball star Tony Parker, and three-week long honeymoon.
People magazine reports Longoria's representative Liza Anderson as saying 'I got a call from her this morning (and) she was already at work. She sounded so great, really upbeat. She's completely content.'
The honeymoon, in the Caribbean Island of Turks and Caicos, was relatively low-key, and kept away from the press.
Anderson updates the magazine, saying, 'It was just her and Tony. They had a private villa. She's completely relaxed and rejuvenated. She had a full week alone with Tony to decompress. It was the perfect balance to gear up for Season 4. So she's really excited. She wasn't dreading work at all.'

Now, Eva is back on the sets of her hit show, with Desperate co-stars Teri Hatcher, Felicity Huffman, Marcia Cross and Nicolette Sheridan.
Photograph: Getty Images