The latest Hollywood updates.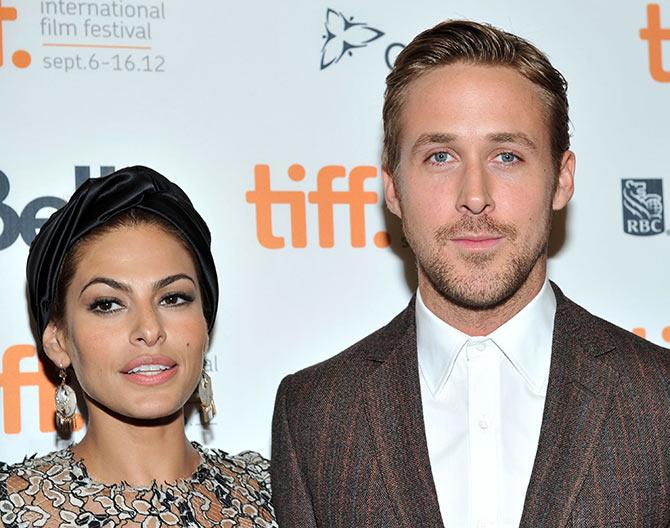 IMAGE: Eva Mendes and Ryan Gosling. Photograph: Sonia Recchia/Getty Images
Ryan Gosling and Eva Mendes have welcomed their second child, a daughter, just days after the rumour that the couple was expecting a baby surfaced.
In mid-April, Mendes was spotted leaving a building in Los Angeles with a large bag to cover her baby bump.
The 42-year-old managed to keep her second pregnancy under the radar and gave birth to the child last month.
A birth certificate, obtained by TMZ, revealed about the baby, who has been named Amada Lee Gosling.
The document stated that she was born on April 29 at Providence St John's Health Center in Santa Monica, California.
Amada, which means 'beloved' in Spanish, sounds familiar because it's the middle name of their first born, Esmeralda Amada Gosling. It happens to be Mendes' grandmother's name and the character she played in 2007's We Own the Night.
Mendes and Gosling, 35, fell in love while filming The Place Beyond the Pines. They welcomed their first child together in September 2014, also a daughter.
***
Brie Larson gets engaged to boyfriend Alex Greenwald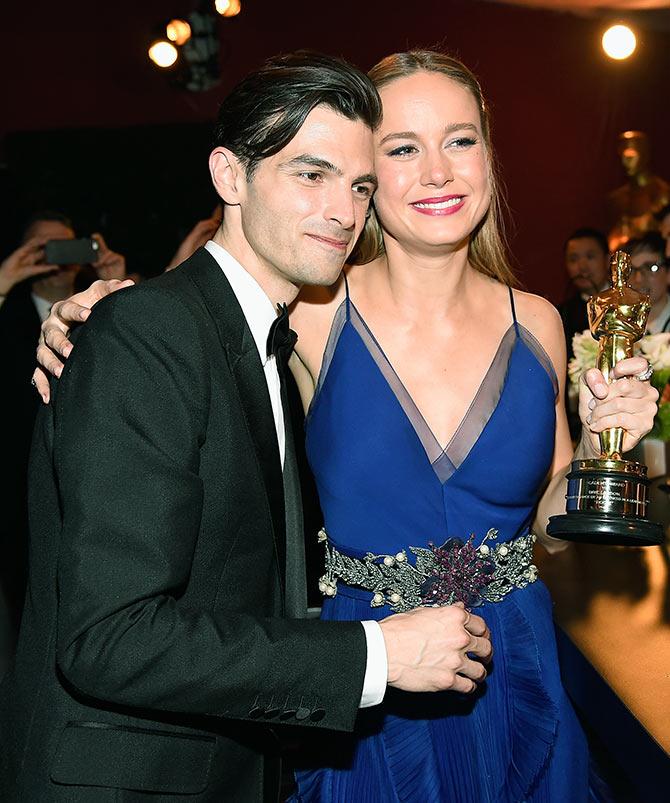 IMAGE: Alex Greenwald and Brie Larson. Photograph: Kevork Djansezian/Getty Images
Oscar-winning actress Brie Larson has got engaged to musician boyfriend Alex Greenwald.
The 26-year-old Room star was seen rocking a diamond ring on her finger when making debut as a host on Saturday Night Live during the weekend, reported US magazine.
A source said that 36-year-old Greenwald, the Phantom Planet frontman, proposed to her during a trip to Tokyo in March.
Larson first publicly confirmed her relationship with Greenwald at the Gotham Independent Film Awards in 2013.
***
Ellen Page in India to shoot for her show Gaycation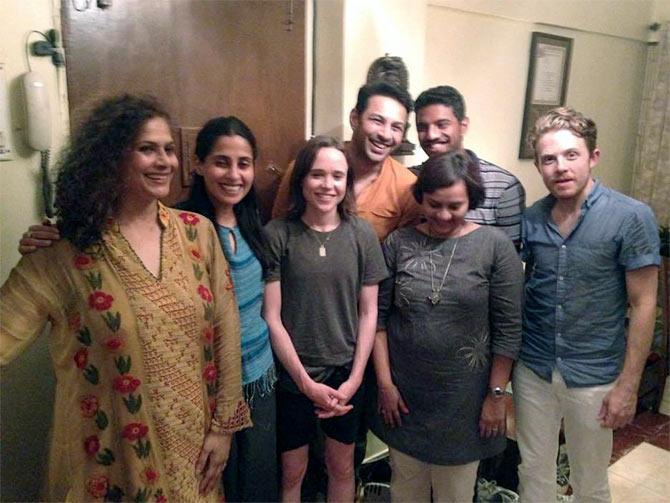 IMAGE: Ellen Page (center) and Ian Daniels (extreme right) at Apurva Asrani home in Mumbai. Photograph: Apurva Asrani/Facebook
Ellen Page, who is best known for her role in Juno, is currently in India to shoot for her show Gaycation.
The actress caught up with Aligarh scriptwriter Apurva Asrani, at his home in Mumbai, as he will be appearing on Ellen's show as one of the guests.
Ellen and her best friend Ian Daniels have already shot for their show in Japan, Jamaica, Brazil and the US.
In India, the duo will be travelling to Delhi and Varanasi, apart from Mumbai.
Gaycation is a television documentary series, which explores LGBT cultures around the world.
Chris Hemsworth makes daughter's birthday cake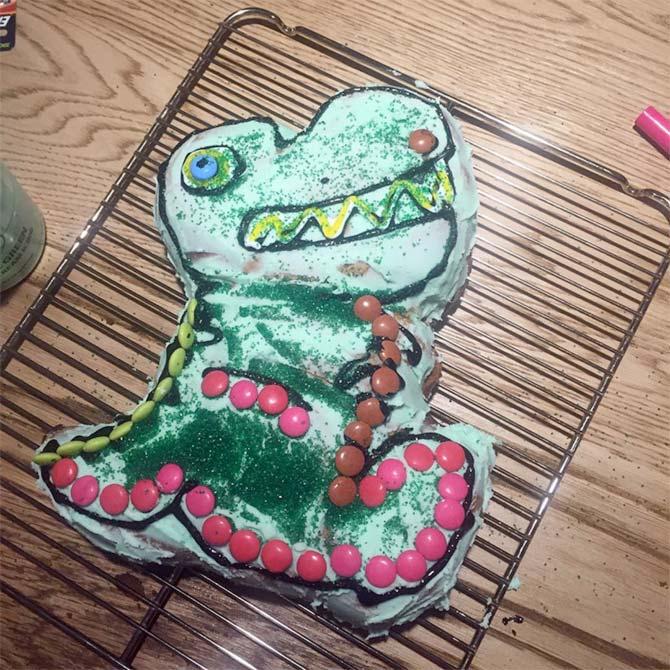 Thor star Chris Hemsworth made his daughter's birthday cake himself, a dinosaur-shaped chocolate treat.
The 32-year-old actor and wife Elsa Pataky were let down by a local bakery who they had hoped could make a sweet treat to mark India Rose's special day, so he rolled up his sleeves and got stuck in in the kitchen himself, reported Just Jared.
Sharing a picture of the dinosaur-shaped cake he'd crafted to mark the youngster turning four, above, Chris wrote on Instagram: 'What happens when the bakery says they don't have time to make your daughter a birthday cake? You get involved and smash one out yourself ! I call it "La TRex al la chocolate (sic).'
And it seems the hunk -- who also has twin sons Sasha and Tristan, two, with his spouse -- is a regular in the kitchen as Elsa, 39, recently shared a picture of him and India cooking up some treats after the premiere of his latest movie The Huntsman: Winter's War.