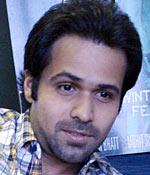 Emraan Hashmi has become the proud father of a baby boy. The 30-year-old actor's wife Parveen gave birth to the child on Wednesday. The newborn has been named Ayaan.
The excited actor informed the world on Thursday about the good news on micro-blogging site Twitter, writing, "My baby boy Ayaan made a grand entrance yesterday."
Filmmaker Mahesh Bhatt, who has made a number of movies with the actor including Jannat and Tum Mile, also wrote on his Twitter page, "Emraan Hashmi becomes a father. A baby boy is born to him."
Hashmi, better known for his 'serial kisser' image owing to films like Murder and Aashiq Banaya Aapne, is still trying to come to terms with the new role in his life.
"I'm feeelin pretty spaced. It'll take a while to come to terms with the fact that I have turned dad," the actor wrote in his blog. Hashmi married his longtime girlfriend Parveen in 2006 and this is their first child.