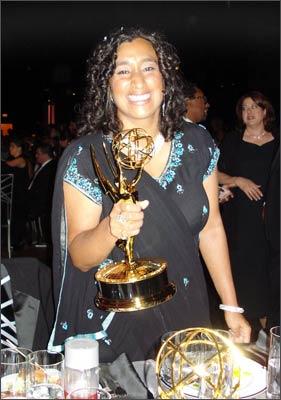 This year, the prestigious Emmy awards saw an Indian winner as well.
Geeta Gandbhir, of Brookyln, New York, won a Creative Arts Emmy Award for Outstanding Picture Editing in Nonfiction Programming. She worked as Supervising Editor on Spike Lee's 2006 HBO documentary, When the Levees Broke: A Requiem in Four Acts.
The four-hour film examines the devastation done to the city of New Orleans after its levee system categorically failed during the onslaught of Hurricane Katrina in August 2005.
The film earned six Emmy nominations and won three: Exceptional Merit in Nonfiction Filmmaking, Outstanding Directing for Nonfiction Programming and Outstanding Picture Editing for Nonfiction Programming.
Geeta has worked as an editor within television and film industry for over 15 years.
In film, she's worked with distinguished directors and producers Spike Lee (He Got Game, Girl Six, Clockers, Bamboozled and Summer of Sam), Robert Altman (Short Cuts) and Sam Pollard.
In television, she has worked for PBS, MTV, Discovery, Court TV and Oprah Winfrey's Oxygen Media.
Geeta's other recent work includes the PBS series African American Lives with Henry Lewis Gates.