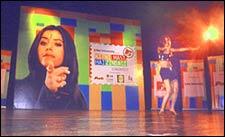 Some time ago, MTV announced that it would collaborate with Ekta Kapoor and make a television serial, Kitni Mast Hai Zindagi. Auditions were to be held in 107 centres all over India to decide the cast.
On July 13, it was Mumbai's turn. The venue was Ravindra Natya Mandir, Prabhadevi, between 10am and 6pm. The hall, balcony, and corridors were packed. Though the gates were shut, the queue outside seemed to be never-ending.
The candidates were divided into groups of five. In the group, each one was given a topic and s/he had to perform a solo skit. The person who got the loudest applause would be deemed the winner and go to the next level.
One was told that his wife had run away with the neighbour's dog! He started shrieking and ended the show barking.
A girl was told that she was the illegitimate daughter of Bill Clinton. She shuddered and after a moment of stage fright, stepped down.
Some were asked to dance to film songs.
Of the hundreds who turned up for the auditions, 12 were selected.
According to sources, 80 per cent of the auditions are complete. The final candidates will be trained by Ekta herself. The training will be aired on television in six episodes over two weeks. Out of these candidates, six will be chosen to act in Kitni Mast Hai Zindagi.
Photograph: A Ganesh Nadar