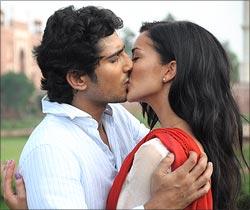 Ekk Deewana Tha will hit theatres with two endings this Friday.

One would be the conventional boy-embraces-girl ending. The other one is being kept a secret.

We hear it is a far less viewer-friendly 'mature' finale where Prateik and newbie Amy Jackson do not end up as a couple.

Director Shakun Batra tried the same boy-does-not-get-girl ending recently in Ek Main Aur Ekk Tu , and got away with it.

While directors in the industry are secretly smirking over the experiment with audiences' perceptions, Gautham Menon says the alternative ending is the 'director's cut' and is only for selected audiences, though how he zeroed in on the profile of that 'selected' audience is unclear.
Explains Menon, "The mass release is not the director's cut. We have two versions of the film with two different endings. The director's cut is like a limited-edition on DVD. It will be screened in just a few theatres in every city and it will be clearly publicised as the director's cut wherever it is screened. It's like picking the English version of Delhi Belly to watch."
Menon hopes the massy ending would click and prompt audiences to see the other ending. "If the film turns out to be a hit, there might be repeat audience for the other version."
Decades ago, Raj Kapoor had shot two different endings for his teen romance Bobby -- one tragic and the other happy. He went with the happy ending as the distributors preferred it.
"The producers liked both the versions," Menon says. "The change is in only the last reel. My director's cut is the ending that makes my film a coming-of-age love story. The ending for the mass release is a feel-good conventional ending."