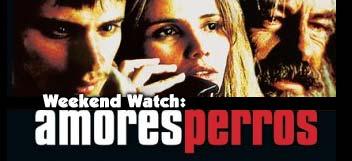 Reading film subtitles for 150 minutes may not seem like the best thing to do on a weekend.

If it were a film like Amores Perros, however, it would do well for you to make an exception.

Some believe the title, in translation, means Love's a Bitch. Others agree on Bitch Love Affairs. That, in my humble opinion, is simply not the point. All you need to know is that this is a film about love stories, played out against a backdrop in which dogs roam freely.

Directed by Alejandro Gonzalez Inarritu -- who gave us the splendid 21 Grams in 2003 -- Amores Perros boasts an elaborate screenplay (Guillermo Arriaga) and arresting performances that more than do justice to it. There are three stories, to be exact, set in Mexico City and all carefully examined to reveal the fragility of human existence. And at the core of these tales is a terrible car accident.

Around that mishap, the stories orbit.

Story One: Octavio and Susana. Played by the delectable Gael Garcia Bernal and a tentative Vanessa Bauche, this is about a young man in love with his brother's wife. He wants to take her away when he earns enough, but she resists him. Mexico's underbelly comes to his rescue, in the form of violent dog fighting. Octavio uses the family dog Cofi to win big, but his luck runs out when he messes with thugs who control the fights.

Story Two: Daniel and Valeria. A married television producer (Alvaro Guerrero) falls for a stunning model (Goya Toledo). He ends his marriage to live with her, but their happiness is marred when Valeria's dog falls through a hole in the living room floor.

Story Three: El Chivo and Maru. The former (Emilio Echevarria) is an ex-radical, who now lives like a vagrant with street dogs and works as a hit man. He is hired by a man who wants his partner killed. El Chivo finds something interesting about his victim though, and decides to change the rules of the job. Meanwhile, he also sets out to find

the daughter he lost decades ago.

The accident -- with which the film opens and which we visit three times hence -- knots these stories together. It happens as Octavio flees from the thugs after a dogfight gone awry. Apart from what it does to him, the accident also changes Valeria's and El Chivo's lives completely.

Calling Amores Perros a violent film is an understatement; comparing it to Pulp Fiction, a mistake. Yes, the hostility is prodigious and present throughout. But Gonzalez's skill comes to the fore when he manages, in the midst of this aggression, to highlight the pain and passion felt by the central characters. What may initially come across as gratuitous, then, eventually proves real.

What non-Mexican audiences need to understand is that Mexican culture is inundated by violence, whether physical or vocal, that springs from a resignation to life's brutality. It is the kind of violence a number of rural communities in India would probably identify with a lot easily, considering they live with the same attitude of fatalism many of us are sheltered from. Amores Perros makes us realise, skilfully, that little divides ugliness from beauty. What starts off in one way need not end predictably. Life-altering chaos maybe just around the corner.

The only part that sags is the story of Daniel and Valeria, which comes across as rather theatrical when placed alongside the tales preceding and following it.

Now for the DVD features. It has a 'restricted viewing' tag for violence, language and sexuality, so letting the children play someplace else might be a good idea before you slide it into your player. There are subtitles in English and French, a production commentary track, some behind-the-scenes footage and, interestingly, a number of music videos featuring the film's haunting tracks (courtesy Gustavo Santaolalla and Antonio Vega).

You will watch this film more than once, simply because it improves with multiple viewings. Since its release in 2000 (the DVD was out in 2004), it has been nominated for an Oscar (Best Foreign Language Film, 2001) and has won a Bafta (Best Film not in the English Language, 2002), apart from 50 other awards and 14 other nominations around the world. Not at all bad for a non-Hollywood product.

Ferocious it may be. But, much like life, it is ultimately beautiful.