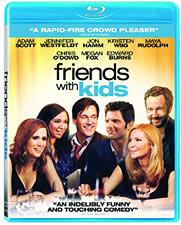 Friends with Kids is one of the best films to hit the home market in recent weeks, writes Arthur J Pais.
F
riends with Kids
, an engaging, witty and touching relationship comedy had many reasons to be a bigger box office success than it was when it released in 2011. With a number of solid performances, the film, which cost about $10 million, deserved to gross worldwide at least $100 million but it has made just one-third that amount.
Now, the Blu-ray and DVD editions offer an opportunity to enjoy this critically acclaimed comedy again. Spread the word, this is one of the best films to hit the home market in recent weeks.
Friends with Kids,
a very New York film, features Jennifer Westfeldt (who also directs the film) and Adam Scott as Julie and Jason, who share a strictly platonic relationship but decide to have a child together out of mutual need, convenience, and to see if they can make it work better than their married friends.
Their married friends have brought up their own kids with mixed results, and so they feel they can take a risk. Though Julie and Jason assert they have no romantic feelings for each other, we sort of suspect right at the start that they do not know themselves well.
They adopt a little boy and decide to look for a partner for each other. Julie meets Kurt (Edward Burns) and Jason meets Mary Jane (Megan Fox). Soon, emotions start getting complicated all around as they continue interaction with other friends with kids and the comedic tension leads to a few life-affirming self discoveries about love, friendship and raising families.
One of the reasons the film did not do solid business is because Bridesmaid, another brilliant laugh riot with a serious edge, was embraced by audiences worldwide in a big way and went on to earn $300 million. Some of the artists in Friends with Kids also have roles in that film. Westfeldt says that she loved Bridesmaid but her film is quite different.
'Our film is about facing that next phase, whether to have kids. Or when your friends are having kids and you're left behind,' Westfeldt told Hollywood.com.
The online publication added: 'Whether it was because it was wrongly shrugged off as a Bridesmaids spin-off, or because much of the target audience, ironically enough, couldn't find a babysitter in time to see it, that may all change with the film arriving on DVD and Blu-ray.'
The disc includes a commentary track with Westfeldt, Hamm and director of photography Will Rexer II; deleted scenes with optional commentary; a gag reel; and a making-of featurette.
The commentary track is among the best bonuses. It candidly discusses the hazards of shooting the film with an ensemble cast, 'all the epic things that went wrong daily, and why we had to change certain things,' the director says.
Winter, particularly December, is not the best month to shoot any film in Northern America, especially in bone chilling New York, but when your budget is tight and you have a cast of busy artists, you go for it and keep praying for miracles.