'It's a warm evening, but people don't seem to be bothered by the heat as they watch the critically acclaimed film out in the open, where they can drink, smoke and talk, if they feel like.'
Amrita Singh reports from an outdoors screening of A Star Is Born.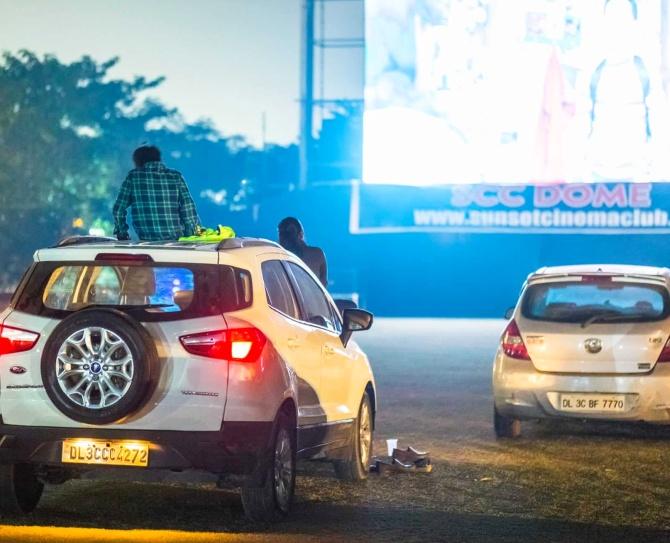 In the midst of Gurugram's upcoming residential buildings, past a network of sandy, bumpy roads, lies an open space dedicated to the movie buff.
As I turn my car into what looks like a parking lot, a 30-ft screen with visuals of Bradley Cooper and Lady Gaga singing in A Star Is Born meets the eye.
There are about 70 people in, on and around their cars, intently watching the film. On one side is a beer and snacks stall.
It's a warm evening, but people don't seem to be bothered by the heat as they watch the critically acclaimed film out in the open, where they can drink, smoke and talk, if they feel like.
I am at SCC Dome, Gurugram's first drive-in theatre. The movie is playing, but the audio doesn't disturb the neighbourhood.
I find out why as I am handed a set of headphones by SilentOwl, a Delhi-based company that provides SilentDisco experiences.
They are discotheque-loud, with clear and sharp sound quality.
Gurugram resident Nidhi Jain is here with her husband and two children for the second time.
"We've come just for the experience of being able to watch a film in the open, while the kids can run around doing whatever they want," she says.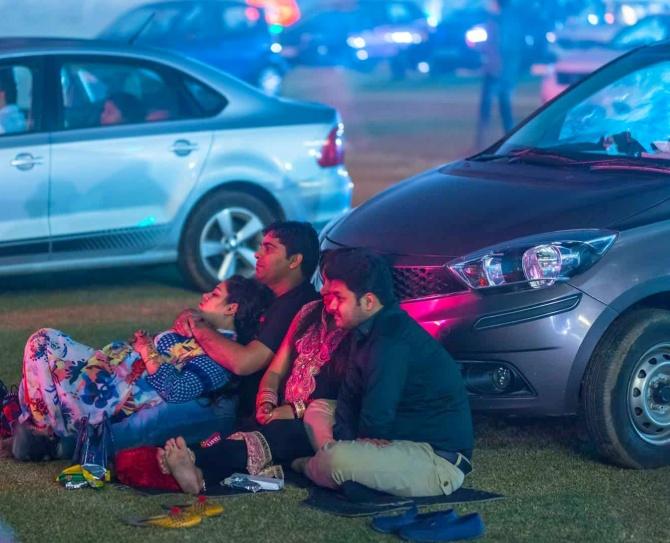 "It's all about getting people to experience cinema," says Sahil Kapoor, co-founder of the Sunset Cinema Club, which works towards creating immersive cinematic experiences in Delhi-NCR, Pune, Mumbai and Bengaluru.
SCC was born in November 2016 with an outdoor screening of Quentin Tarantino's revered Pulp Fiction in Delhi's Akshara theatre.
"We were completely sold out and had 250 people on the very first day," remembers Kapoor.
Since then, SCC has screened a variety of Hollywood and Bollywood films at different venues across cities on request from corporate organisations and individuals.
It also holds regular screenings at least twice a month, tickets for which can be purchased on platforms such as Insider.
For a movie at SCC Dome, tickets are priced at Rs 400 and parking spots are given out on a first-come-first-serve basis.
SCC Dome held its first screening on March 7 this year, where 180 people turned up to watch the Academy Award-winning Bohemian Rhapsody.
The company has tied up with 11 studios across the world such as Warner Bros and Yash Raj Films, granting it access to about 11,000 film titles.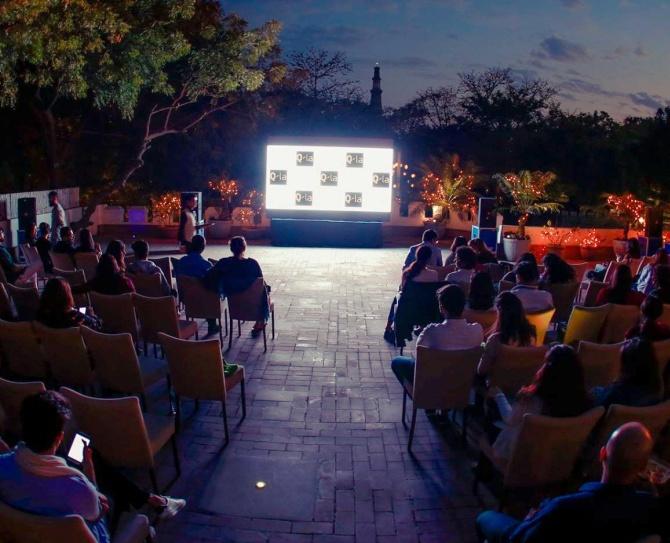 While SCC has a fixed drive-in theatre, Bengaluru-based Under the Stars, which started screening films out in the open in November 2017, sometimes creates makeshift drive-in theatres in different venues -- such as at the Manyata Embassy Business Park and The Courtyard House.
Under the Stars usually screens films that are at least four to five years old as it does not have the licence to show recent releases.
Abhijit Shah, co-founder of Lonely Cow Entertainment, the partnership that launched Under the Stars, says, "Such drive-in theatre screenings cater to a sense of nostalgia, similar to what we saw in old films."
Shah also feels that most people come to these screenings to enjoy a good night out, where they feel involved while watching both cult favourites and mainstream cinema instead of merely sitting and consuming a film in a closed theatre.
While both Under the Stars and SCC are new players in India's drive-in theatre industry, Sunset Drive-In-Cinema in Ahmedabad and Prarthana Beach Drive-in Theatre in Chennai have been around for a long time.
These permanent installations, made specifically for people to bring in their cars and watch films, are alternatives to cineplexes as they screen new releases.
In fact, Sunset Drive-In-Cinema has been around since 1973 and can house 665 cars at a time.
It is replete with a food court, a Dolby surround sound system and is currently screening Karan Johar's latest production, Kalank.
As the drive-in screenings in Gurugram are dependent on the weather, SCC, along with Dazzling Works, which manages the operational affairs, plan to enclose the periphery of the drive-in theatre to safeguard equipment and minimise the effect of wind.
They also plan to set up a cafe along with a gazebo to seat people. "We are preparing for the period between October and February, when people like to be outdoors to enjoy the weather. By then, we will have washrooms and a comfortable place for people to watch films," says Abhimanyu Rai, founder of Dazzling Works.
And to deal with the sweltering summer months ahead, SCC Dome plans to come up with inflatable pools, so that you can watch a film submerged in water.