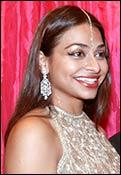 The first of the reviews are out for Bombay Dreams, the superhit London musical helmed by Sir Andrew Lloyd Webber, directed by Steven Pimlott, with the music scored by A R Rahman, that released on Broadway April 29.
Before the verdict, here's the artist The New York Times called the 'real star' of the show: Ayesha Dharker: "Equipped with dangerous curves and a blindingly self-satisfied smile, Ms Dharker's Rani exudes the deep superficiality that
makes good send-ups of ego-driven stars so satisfying. In Shakalaka baby, the deliriously kitschy film-set routine led by Ms Dharker, the show takes on the glow of divine madness you've been waiting for all along."
The review further mentions: "As Rani happily and viciously hogs the spotlight in the Bollywood production numbers, Ms Dharker achieves what the rest of the production aspires to but rarely realises: a performance that transmits the core appeal of what's being parodied, a style that embraces even as it skewers."
| | |
| --- | --- |
| | Don't Miss! |
| | |
That pretty much sums up the review, which says the 'friendly, flat and finally unengaging tale of glamorous movie folk and lovable untouchables' still casts a 'perverse spell'. 
It is the first time that an Indian-themed show is showing on Broadway. It is also the first time that a Broadway show is almost entirely populated by South Asian actors. And more important, it is the first time that composer A R Rahman and choreographer Farah Khan have showcased their talents at what is perhaps the theatre capital of the world.
The musical also got a fillip when it received four Outer Critics Circle nominations: Best Musical, Best Actor in a Musical (Sriram Ganesan), Best Actress in a Musical (Ayesha Dharker) and Best Choreography (Farah Khan and Anthony Van Laast).
Most critics panned the musical when it opened at London's prestigious Apollo Victoria Theatre two years ago. However, it went on to become a superhit, with audiences thronging to see the 'Bollywood spectacle'.
That, however, is no indication of the fact that it might be a success on Broadway, cautions The New York Times review, calling it an 'expensive model of blandness'.
The review also mentioned: "It was assumed that a good part of the audience for Bombay Dreams would have fond and intimate knowledge of the mass-produced singing films that inspired the show," adding, "Previous familiarity with this genre is not essential to following the by-the-numbers plot of Bombay Dreams, which mixes mean-streets tragedy
with fluffy, feel-good fantasy."
Photograph: Paresh Gandhi
Click here for More Features