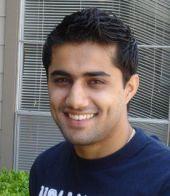 Actor Vishal Karwal is the second wild card entry in the Bigg Boss house.
Vishal debuted with Roadies 4 on television but shot to fame after Spiltsvilla, both popular reality shows on MTV. He was later seen in shows like Bhagyavidhaata and Pratha.
Apparently, the actor was approached for the show earlier but he had declined the offer. Instead, Karwal had taken up Dwarkadeesh, on Imagine TV.
Vishal Karwal had a quick chat with Rajul Hegde just before he entered the Bigg Boss house.
Do you follow Bigg Boss? Do you think it's parivarik (family-oriented) this season?
Yes, I have religiously followed the show this season. I think its parivarik to a certain extent, not completely though. They (the house inmates) don't use much bad words, less of shouting, unlike the last season.
So when was this show offered to you?
I received the offer a couple of days back. I was offered this show last season too, but I couldn't take it up that time due to prior commitments.
I will start shooting for my next daily soap in December or January. I was free for the next two months, so I agreed to be a part of this show. When I know it's going to be a unique experience, why not?
Do you have any strategy?
I don't have any strategy; I'll go with the flow. I am not a controversial person. Also I don't like to get into petty fights. I don't think I can give any masala to the show.
What do you like about Bigg Boss?
I am not a big fan of this show. But I am on the show only because I want to do something different which I haven't done before. Also it's a good platform to know yourself.
You have watched the show for five weeks. Who do you think is the most irritating person in the house?
Urvashi (Dholakia) is a bit loud, she sometimes fights as well; but then she also takes care of Aashka Goradia and Delnaz. She is not a bad person but people tend to react in the given situation.
I don't want to be judgemental by just watching them for few weeks on TV. Let me go inside the house and check the temperature.
Do you have any friends/known person inside the house?
Yes. I know Sara Khan and Mink Brar. I'll mostly hang around with the women in the house. It's interesting to be with them because they will have all the information and are also entertaining.
So you don't want to gel with the men at all?
I think I will do a morning workout with Niketan Madhok. I know Rajiv's (Paul) brother; I think I will get along with him too.
So can we expect a love triangle in the house?
(Smiles) First let me see whether they will like me or not.
Image: Vishal Karwal