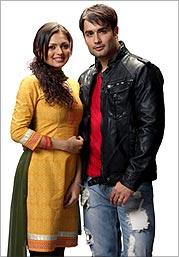 Colors' new show Madhubala: Ek Ishq Ek Junoon will not highlight the dazzling actress of yesteryears and her romance with Dilip Kumar as was widely believed but it is, in fact, based on the reality of showbiz. It is about the people in the film fraternity -- actors, junior artistes and their families.

The show stars Drashti Dhami (Dill Mill Gayye, Geet - Hui Sabse Parayi) and Vivian Dsena (Pyaar Ki Ek Kahani).

"My character bears no resemblance to Madhubala, the actress; I don't think I can be compared to her. When people watch the show, they will realise it's not about her," Drashti explains.

"Madhubala is a simple, mature girl, who is happy with her life. She doesn't wish for stardom but it is forced upon to her," Drashti adds.

Set in the 1990s, the show is about a girl who falls in love with a superstar called RK (Rishabh Kumar).
So what attracted Vivan to this role? "My role here is different from my earlier role (where he played a vampire in Pyaar Ki Ek Kahani)," he says.
Any inspiration from any Bollywood actor? "I idolise Salman Khan but that doesn't mean I follow him," he says quickly.
In the show, RK turns Madhubala into a star. "RK is a star kid who is successful, confident and clear about what he wants in life," he says.
Madhubala is produced by Saurabh Tewari's Nautanki Films. It will premiere on May 28.