Padmashri Dr B Saroja Devi is one actress who ruled the South Indian film industry for many years. She also worked in Hindi films like Sasural, Pyaar Kiya To Darna Kya, etc. 
To commemorate the fifty years of completion of the state of Karnataka, the government has decided to make documentaries on personalities who have contributed to the political, social, cultural and sports segments of the state.  
Veteran director K S L Swamee has been assigned the responsibility of directing the documentary film on B Saroja Devi.  Swamee, who has directed more than thirty films including Krishna Rukmini Sathyabhaama featuring B Saroja Devi, is now a popular actor in film and television serials. 
Swamee completed the documentary in just seven days -- which included a day's shoot at St Theresa School in Chamarajpet where the actress did her initial schooling.  
Swamee shot a young Saroja Devi going to school and taking keen interest in school dramas. Kumari Hithaishini, granddaughter of actress BV Radha acts as the young B Saroja Devi.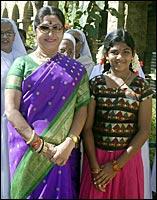 Swamee says that as the film is made for the Government of Karnataka, and the focus is on the contribution of the actress to Kannada films.  
"Saroja Devi had acted in more than two hundred films in various languages including Kannada, Tamil and Telugu. She had starred with legendary actors like MGR, Sivaji Ganeshan,  NTR,  Akkineni  Nageshwar Rao, Dr Raj Kumar, Kalyan Kumar, Gemini Ganesan, etc.  Saroja Devi will recount her experiences of working with these legends. The documentary showcases her achievements and how she became the top actress in South India from a humble beginning," says Swamee. 
The documentary also has several veteran artistes sharing their experiences of working with her.   
B Saroja Devi continues to act even today.