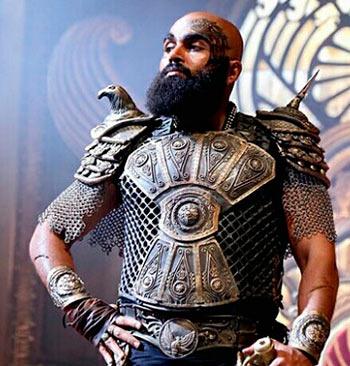 'Kaashmora was enjoyable and lighter while Baahubali was serious drama.
Karthi gears up for his next release.

Karthi's last outing -- Oopiri in Telugu and Thozha in Tamil -- was a hit at the box office.
The film, which marked his debut in Telugu, was critically acclaimed as well.
Since the actor has a large following in the Telugu speaking belt, his next big Tamil release Kaashmora will be dubbed in Telugu.
Kaashmora, which is slated to release on October 28, is Karthi's most expensive film till date.
In this exclusive conversation with Rediff.com contributor Radhika Rajamani, Karthi discusses Kaashmora.
Kaashmora seems intriguing.
Yes. There are two contrasting characters -- one is Kaashmora, who is into black magic, and the second one is a warlord that goes 500 years back in time. A princess connects them.
I felt it was a fantasy film which kids would enjoy. Also, there are horror, historical elements and humour in it.
Director Gokul's earlier film Idharkuthane Aasaipattai Balakumara was good. The huge budget of Kaashmora was a risk but it we felt that with proper planning, we could achieve it.
We wanted to give a grand visual look but keep the script simple and entertaining. We wanted to push boundaries as far as acting is concerned.
You seem to have a triple role -- one as a warlord, a normal youth and a man with a tonsured head. How did you prepare for them?
The Kaashmora portion is the live portion. The film cuts back to the historical portion.
Gokul began his career as a dubbing artiste so he wrote the scenes based on performances. He has done a lot of research and I picked up mannerisms from him. It was easy.
Raj Nayak is fictitious, so a lot of imagination went into it. NTR and Sivaji set benchmarks for historical films with their performances. We did not want any influence of that. We tried to be different.
I learnt horse riding and sword fighting for the role. There were rehearsals for the body language and dialogues.
Was it challenging then to play these characters?
Since they were different, yes. The impact had to be intriguing and entertaining. I worked hard on expressions so that nowhere could you see Karthi.
Did any of the roles linger after you finished the film?
Not really. I play dual roles. I had to switch between both the characters while shooting as well. I was getting in and out of them.
There seems to be a war sequence replete with special effects. Did you use any special weapons or is it shown only through computer graphics?
Everything was designed. The multi-edged sword is a weapon; I had to do stunts on the horse. I practiced horse riding for a year in order to get comfortable with the horse so that I could do the stunts.
When I had the tonsured look, the horse didn't recognise me and I had to speak to him and convince it was me.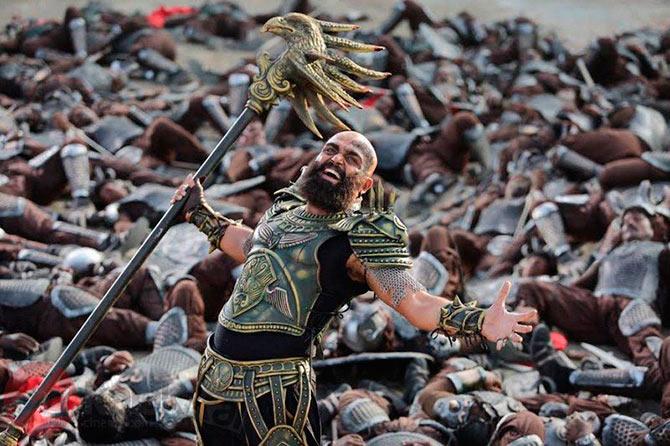 The 3D Face Scan technology has been used for the film for the first time in South India.
One character's acting had to be reproduced without my actual acting. So this technology which was earlier available in the US was done locally in India.
It was used for Kochaidaiyan but it was done in the US then.
There are two heroines, Nayanthara and Sri Divya. How was it working with them?
Nayanthara comes in the historical phase. I enjoyed the unique and intriguing relationship. We do a song and stunt together too.
Sri Divya's role is the lighter one, filled with humour. She plays a student who does research on ghosts. There is no romance as the script does not require it.
Did you dub the lines in Telugu?
Yes. I have dubbed for one character.
This is one of the costliest films of your career. Was it weighing on your head while shooting it?
Yes, the budget is Rs 50 crore plus. I was constantly worried. We were frugal while shooting the film; we did not exceed the days of shoot. We planned well and ensured there was no wastage of resources. We shot it in studios in Chennai.
How would you label this film?
It's a fantasy one. Kids will like it. Do not compare Kaashmora with Bahubali. This is enjoyable and lighter while Baahubali was serious drama.
What did you discover about Gokul while working on this film?
He particularly works on performances. He has grown as a director. He concentrated on every department, every detail. There were also pre-visuals besides story board. It was not easy to convert the script into a film but it was done.