Sukriti Khandpal has replaced Shilpa Anand in the television soap, Dill Mill Gayee, after the latter opted out. Her character Dr Riddhima has steadily climbed up the popularity charts.
Srabanti Chakrabarti caught up with the actress to find out more about her.
First, tell us about yourself.
I am from Nainital, Uttaranchal. My father is a public prosecutor in Nainital, and my mother is a housewife. I came to Mumbai when I was 14. People think that I came to Mumbai to join the glamour world. But the truth is that I came here to study in a good school. Mumbai is the best place for that.
How did you get your first break?
I was with friends at a coffee shop, when a creative director with Cinevista spotted me and asked me to meet him later for an audition. I auditioned for Jersey No 10 and was selected. I was thrilled!
Were you apprehensive about taking up Dill Mill Gayee, in a character made famous by another actress?
More than 150 episodes had been telecast with Shilpa Anand playing my role, and she was doing a good job. So making a mark was very difficult. What made matters worse was the fact I had never watched the show earlier! So I had to start from scratch.
But frankly, I was not apprehensive at all. When I was identified for this role, I thought if the production house had found me suitable, they must have had a reason. Plus, the audience would judge whether I was capable of doing the role or not.
This show has given me fame and fortune and I need to express my gratitude to it by working exclusively for Dill Mill Gayee.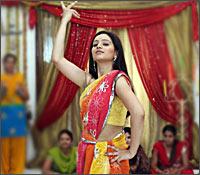 How are your co-stars?
All of them are very nice. Karan Singh Grover is very helpful. He made sure I was comfortable in the show. Apart from him, I must mention how much the creative heads of this serial helped me. They would always boost my ego to make sure that I performed to the best of my capabilities.
Your look here is very different from Jersey No 10.
I sported a Western look in Jersey No 10. Here, I am mostly wearing salwar suits!
In real life, I have curly hair but on screen, I have to wear straight hair. So my look in this show is quite different from what I really look.
What is your parents' reaction?
Initially, my father was upset. He felt I was too young to decide my future. I am 20 year old. He tries to protect me even now. But slowly, he started liking my work and my decisions. They were also happy since I had completed my college studies. After seeing me in Dill Mill Gayee, they are very happy and proud for me.
Is there a man in your life?
Yes, there is but he is not from the television industry. He is from the hotel industry. We have been seeing each other since our college days.