Legendary comedian Mehmood passed away on July 23 after suffering from a long illness. Dev Anand pays tribute to the actor-director who starred in almost 300 films in a career spanning over three decades.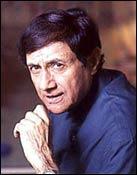 I met him recently when I was in New York. He had called me up in the US and his son Lucky Ali had composed music for me. I had directed Mehmood in Des Pardes and Lootmaar.
Mehmood was a good comedian and a good friend. He met me when we were making Manzil and he played a paanwala who loved to sing. We've had a relationship since those days. He was my age. He recently told me that, I couldn't believe it! He used to call me Dev bhaiya.
He had his day. He moved from small roles to comedy and even played a hero. He was the son of Mumtaz Ali, who was a Bombay Talkies artiste.
I particularly remember the film Kunwara Baap, which was very successful. He used his son who was paralysed [Macky, who died in August 2002].
Ultimately, we all have to go. I remember he was on oxygen and had been ill for some time.
Don't Miss!
Remembering Mehmood
Click here for More Features