'There are a lot of things to make the series The Night Of relevant.'
'The decision to make it -- not only South Asian, but Pakistani Muslim -- is intensively relevant with what's going on today.'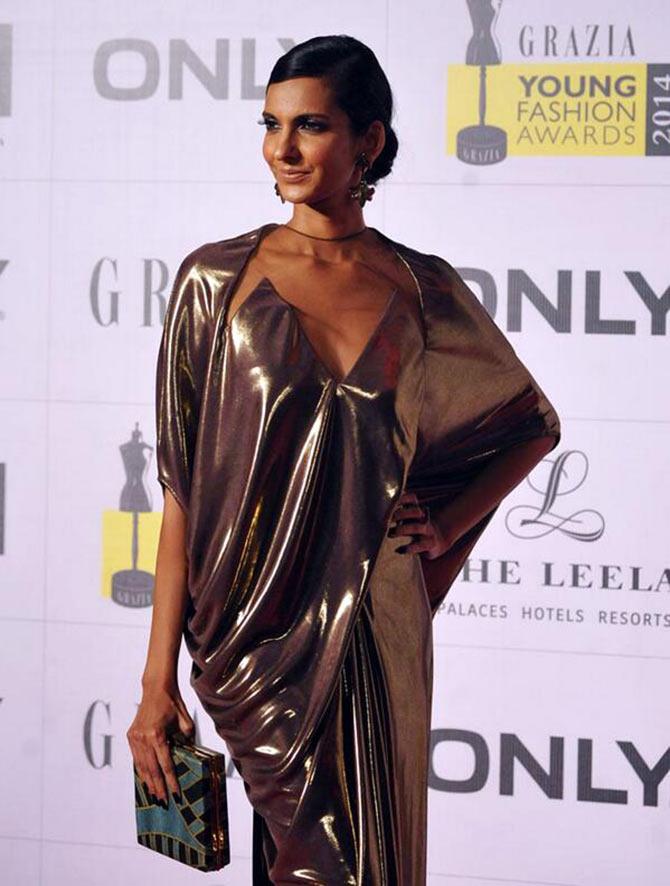 IMAGE: Poorna Jagannathan/Twitter
Poorna Jagannathan has had an eclectic acting career.
From theatre and indie films in New York, she landed the lead role as Imran Khan's love interest and a spunky journalist in the Aamir Khan produced Delhi Belly.
From there, she took a totally different turn -- producing and acting in a devastatingly powerful play Nirbhaya, which has been performed in several countries and celebrated by audiences and critics.
Now, Jagannathan has moved to the small screen in the HBO show The Night Of, playing the role of Safar Khan, a middle aged Pakistani-American mother to a shy young man Naz, played by the Pakistani-British actor and musician Riz Ahmed (Four Lions, Nightcrawler). Iranian actor Peyman Moaadi (he played the lead in the Oscar winner A Separation) plays Jagannathan's husband, Salim, who is a cab driver.
Written by Steven Zaillian (Gangs of New York, Moneyball and an Oscar winner for Schindler's List) and novelist and scriptwriter Richard Price (Color of Money, Clockers and the HBO show The Wire), The Night Of is a gripping crime drama, based on a British show Criminal Justice.
The show was originally supposed to star the late actor James Gandolfini in the role of a hard-at-luck lawyer Jack Stone. After Gandolfini's death, the role was offered to Robert De Niro, but eventually John Turturro played the part.
The nine part HBO series -- the first that portrays the lives of a South Asian family in New York City -- premiered in the US on July 10. It will premiere in India on Star World Premiere HD on July 13.
Aseem Chhabra talked to Jagannathan about her role, working with her co-stars and what Gandolfini's death meant for The Night Of.
James Gandolfini died in June 2013. When did the journey of this show start?
My journey with the show is a little longer than most people. I auditioned in 2010 and we didn't shoot the pilot until 2012. I remember I was in rehearsals for Nirbhaya in Delhi when he passed away.
So the first episode that has premiered on HBO is technically the pilot you had shot, except John Turturro plays Gandolfini's role in the brief scenes at the end? You didn't reshoot the whole pilot?
No. I think the show partly survived because James Gandolfini had literally shot all that in one day. They knew that reshooting the pilot would have cost an enormous amount of money, so they just reshot those scenes.
The other eight episodes were shot last year?
They were shot in late 2014 through mid-2015.
That's okay since it was a two-year gap. So all of the actors must have looked the same?
At the beginning of the shoot of the pilot, I used to come with white extensions and clip-on gray hair.
By the time we finished the shoot last year, I used to come just ready. I had done Nirbhaya and with the stress from that play I was all gray. By the time we finished shooting, I felt I was the appropriate age for the character.
That's interesting since Riz Ahmed is slightly younger than you.
Yes, absolutely, and they did age me.
After I became a mom, I have had a huge level of comfort playing a mother and understanding what it takes to be a mother.
Generally, women who are not moms can play moms perfectly, but I never had that ability. Now I can play it.
Playing mom to Riz was such an amazing experience. Peyman, Riz and I all intertwined. There is a familial relationship. We are good friends and the connection is actually very deep between the three of us.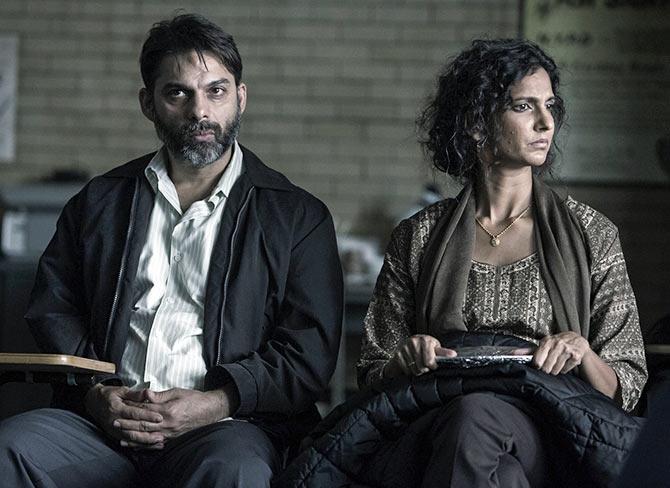 IMAGE: Peyman Moaadi and Poorna Jagannathan in The Night Of. Photograph: Craig Blankenhorn/HBO
I have heard when there are series like Mad Men and Breaking Bad, the actors don't get to see the entire script for the whole season.
Did that happen with you? Well, you knew the Criminal Justice show though.
I never watched it. There were some clips on YouTube that I watched right before I auditioned for it. We were over at (writer) Richard Price's house and he asked, should I get the DVD for you. I said maybe not. That show happened in its avatar and this is different.
But I think you had picked up on the thread the last time we spoke and I had casually talked about the show -- the fact the UK show had a Caucasian family and here it is a Pakistani-American family.
There are a lot of things to make this series relevant and one is just the beauty of the story that survived through Criminal Justice. But the decision to make it -- not only South Asian, but Pakistani Muslim -- is intensively relevant with what's going on today.
When we were shooting the show, it was very eerie what was going on. I was doing a television show and there was a contract that it was fictional. And I can tell you, when people come to see Nirbhaya, there is an implicit contract in their mind that it is fictional.
When they realise it is not, there is a shift in the audience. It's a very uncomfortable shift.
The question I had asked earlier: Had you read the entire script? Did you know how the show would end?
No, not to my memory. I think they were writing as they were going along but I was given enough information that the previous moments were believable. There's a real shift in the mother's character that happens.
Because they chose to make it a Muslim family, there is a parallel story happening. I would say the stars of the show are Riz and John.
In the British version, the outside plotlines are leading just to that. But in this version, there is a parallel track because of the Muslim story, which is really fascinating.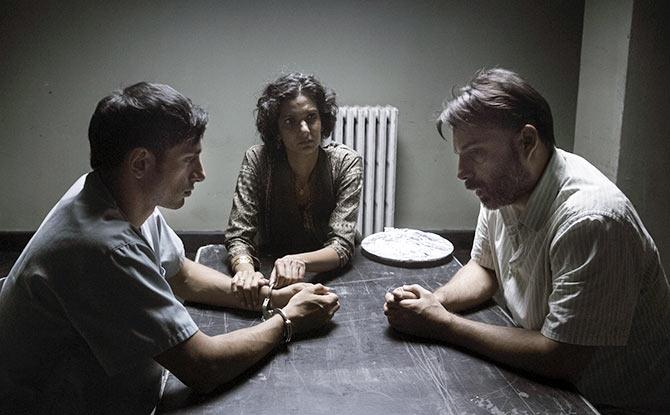 IMAGE: Riz Ahmed, Poorna Jagannathan and Peyman Moaadi in The Night Of. Photograph: Craig Blankenhorn/HBO
Did you, Riz or Peyman make any contribution to the script?
Not to the script. Both Richard and Steven Zaillian are brilliant writers. Richard's wife Lorraine Adams is a journalist and an expert on Pakistan and South Asia.
The story is that she is the one who told Richard to make the characters South Asian. She has spent time in Pakistan and it's a world they are very well immersed in, as well as the community here. So the script had a degree of inherent authenticity.
There was a scene in the pilot where we were eating. There was cutlery laid out and I said 'We don't eat like this.' The set designer laid it like an American table, with place mats, napkins and cutlery.
But Peyman had never eaten with his hands. The actor, who plays Riz's brother, who I think is Hispanic, also hadn't eaten with his hands.
So in Iran they don't eat rice with hands?
Well, I don't know, but Peyman would ask 'Where do I dip this?'
So within the construct of a scene, we would make it ours, but the scene itself not so much.
You said you became like a family. I am sure that happens in films also, but was it different here since it was shot over a longer period of time?
I don't know why it was different, but it was an intensely deep relationship that we formed and continue to have. Maybe it was because of the nature of the script.
Riz and Peyman are two of the funniest people I know. We would have tears streaming down our eyes before each shot. They are really gifted comedians.
I wanted to go back to James Gandolfini's death. It is really unfortunate that he passed away and then you all were left in a limbo state. I know you got busy with Nirbhaya and it became perhaps the biggest thing you have done in your life. But at all times this show was also alive.
After seeing who Steve Zaillian is, I understand how the show was kept alive. There is a particular thing he wants and he goes forward, no matter what the obstacles and opposition is.
All the usual markers of letting a project go were there. Gandolfini died and after that setback, HBO passed on the show. Steve decided to take it elsewhere, but HBO came back.
When Hurricane Sandy hit, the whole production went upside down. It was one thing after the other.
IMAGE: Poorna Jagannathan and Peyman Moaadi in The Night Of. Photograph: Craig Blankenhorn/HBO
As actors, you must have been offered other projects.
Everyone from cast and crew cleared their schedules for this. When we reassembled, it was the core group again.
The writing is spectacular and so is the direction. Zaillian cast very meticulously. For every small character he auditioned many, many more people.
I was telling Steve, it's a love letter written to New York in blood.
Without giving away how the show will end, what do you think the audience will take from it?
In the times we are living, how do you think the audience will react to a story about Muslims in New York?
What I loved about the show was that it really got inside his family life as well. When a crime like this happens on TV, it is captivating and gripping. But the truth is that the crime has a devastating effect on all factors of life.
This show reflects on how the crime has an impact on the Muslim community, the family, and ostracisation it feels from the community and how they are absolutely marginalised.
What I love about the show is the domino effect from the small decision Riz's character makes. Everything and everyone that touches Riz's character is devastated.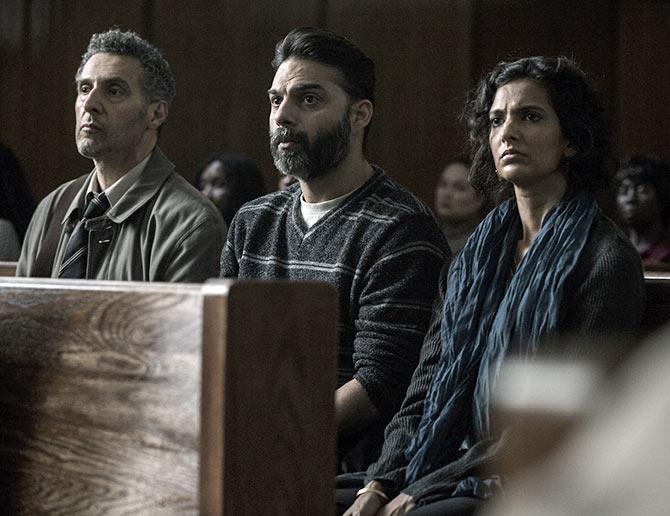 IMAGE: John Turturro, Peyman Moaadi and Poorna Jagannathan in The Night Of. Photograph: Craig Blankenhorn/HBO
So you shot this last year, then there was a gap and now the show is finally up and running. How does it feel to revisit and promote it?
The turn around has always been slow for me. I shot Delhi Belly and it finally released three years later. I feel that has been the trajectory for most of my work.
When enough time has passed, your expectations are very leveled. I can be re-excited about the project, but now also as a viewer. I saw the pilot and I was almost going, 'No, don't do that. That's a bad idea.'
I went through the same feeling. I watched the show at 7.30 am. It's almost like one starts to talk to the characters, and I kept thinking of how he could have avoided the difficult situations.
Then I had to say to myself to let the show play out itself. My emotions won't control what's happening on the screen.
It's actually been so long that I am a little unclear. The script is a little faded for me.
And you are not in every scene.
Yes, and then there are things that are changed. It was agonising watching the show. But even when auditioning it, I could tell this was something special.