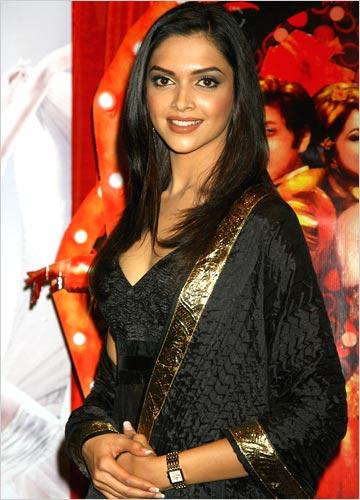 Deepika Padukone, who made her Bollywood debut with Om Shanti Om last year, will lead the annual India Day parade in New York on August 17.
The parade, which has showcased India's culture on Manhattan's Madison Avenue since 1981, will also have industrialist Vijay Mallya as chief guest, Federation of Indian Associations (FIA) president Yash Paul Soi announced.
The FIA, an umbrella group of cultural, educational and community organisations in New York tristate region, which organises the parade, flagged off the event at the Indian consulate in New York on June 10.
The parade will begin on 41st Street, wind down Madison Avenue and culminate in a variety show on 23rd Street, drawing an estimated 50,000 people.
Last year, Priyanka Chopra was the grand marshal at the event, which celebrated India's 60th anniversary of independence. In past years, Govinda, Madhuri Dixit, Dev Anand, astronaut Sunita Williams and music conductor Zubin Mehta have marched with the crowd.
On the guest list this year are city mayor Michael Bloomberg, New Jersey governor John Corzine, New York governor David Paterson, and President Bharrat Jagdeo of the Republic of Guyana.
The June 10 event, where consul general Neelam Deo lauded the organisers for celebrating India, paid homage to the martyrs of the first major struggle for independence in India in 1857. The gathering observed 57 seconds of silence.
Rajni Sarin, a co-convener of the BJP's doctors' cell, is travelling to New York with a kalash (metal pot) that contains soil from the birthplaces of the martyrs in the battle for independence. On May 10, many events were organised in India to mark 'Naman 1847.' 
The FIA also announced its plans to campaign for two Gandhi statutes on Ellis Island and on the campus of the United Nations. The organisation is very positive about the response from the UN, former FIA president Jayesh Patel said, and fund-raising will start as soon as the requisite permissions are granted. It is drawing hope from the UN declaration last year of Mahatma Gandhi's birthday as International Day of Non-Violence. FIA will also campaign to get the Mahatma's birthday celebrated in public schools in the New York region.
Text: Monika Joshi | Photograph: Chris Jackson/Getty Images