'Not only the poor in India want sons, but even in the Indian community in the US and Canada.'
'The more educated they are, the more access they have to money and use of technology in gender choice.'
The third I film festival showcases movies with strong messages, reports Ritu Jha/Rediff.com from California.
The San Francisco Bay Area was treated to 14 films on South Asia during the third I annual San Francisco International South Asian Film Festival.
Focus on Freedoms was the theme of the festival this year and films from India, Pakistan, Bangladesh, Sri Lanka, Nepal, Tibet, Bhutan, Afghanistan, and the global South Asian Diaspora were screened at the New People and Castro, San Francisco, and at the CineArts, Palo Alto.
Anuj Vaidya, festival co-director, said the festival's programming reflected the lives and experiences of the many ethnic, religious and national identities that comprise the South Asian identity, and promote interaction and dialogue, both within the South Asian community, and with other local and global communities.
Why focus on freedom this year?
"Our annual themes usually emerge organically from the programme," says Vaidya. "This year was the same. We started slotting films into our line-up and we realised that our Focus on Freedoms was not only a way to have community dialogue around important issues, but also to inspire community members to stand up for their own freedoms by showcasing stories of courage."
"We are honoured to be hosting real-life heroes at the festival this year: Syed Raza Aamir Hussain and Shaftaq Batool Raza, on whose lives the film Tigers is based as opposed to onscreen heroes," he adds.
Hussain, a former Nestle salesman, worked to stop the company from bombarding new mothers with formula.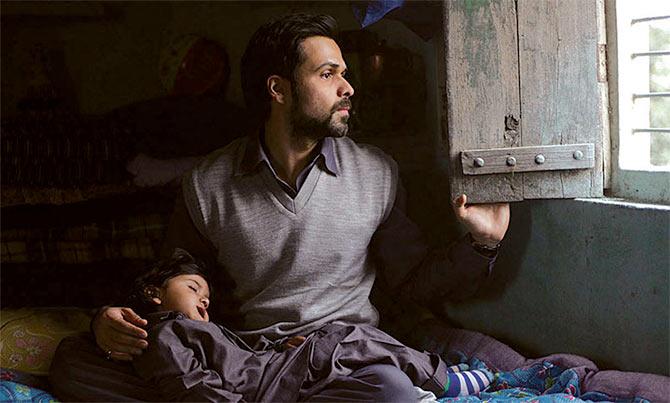 IMAGE: Emraan Hashmi in Tigers.
This year some of the events that influenced the programming were the massacre at the Charlie Hebdo office in Paris, Europe's refugee situation, the war-torn Middle East, the current cultural/political climate in India, as well as the recent re-criminalization of homosexuality and gender violence in India, Vaidya said.
Pakistani-American writer-performer Fawzia Mirza's Me, My Mom and Sharmila looked at issues of sexuality.
Petals in the Dust by Bay Area filmmaker Nyna Pais-Caputi, the documentary Silence in the Courts by Sri Lankan director Prasanna Vithanage, and the short Mardistan/Macholand by Harjant Gill focused on gender debates.
"South Asia has always had a complicated relationship with the word 'freedom'. Freedom for India and Pakistan also encompassed Partition which was a rather traumatic event. The legacy of freedom has been the continuing conflict over Kashmir," explained Vaidya.
Partition and Kashmir were examined through Mara Ahmed's A Thin Wall and Vishal Bhardwaj's Haider, which brings Shakespeare's Hamlet to violence-torn Kashmir.
Recalling how A Thin Wall got a spot in the festival, Vaidya said, "We really love the film because it encapsulates so much of what the third I is about. The fact that it is an Indo-Pak production, between director Mara Ahmed and producer Surbhi Dewan, was definitely a big plus, as we always look for films that move beyond narrow, national identities, to forge a South Asian collaboration."
Petals in the Dust deals with an issue the desi community needs to come to terms with. Indian girls are endangered in South Asia and also among the South Asian Diaspora.
"Not only the poor in India want sons, but even in the Indian community in the US and Canada," Caputi said. "The more educated they are, the more access they have to money and use of technology in gender choice."
"We have to change the mindset -- how valuable daughters are and not just sons," she added. "Many Indian women come here and share how badly they are harassed by their in-laws and husbands."