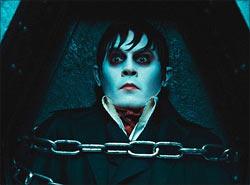 The summer frenzy for adrenaline-pumping big budget films gets bigger today when
Dark Shadows
, a fairly entertaining horror comic movie driven by the star power of Johnny Depp (and to a lesser extent, Eva Green) opens in North America, India and 42 other countries.
The last collaboration between Depp and director Tim Burton yielded
Alice in Wonderland
which received mixed reviews but went on to earn over $1 billion worldwide. Their new movie -- their eighth collaboration in the past two decades -- has the word HIT written all over it.
But no one is expecting it to be a monster hit such as
Alice
and certainly no one is thinking that it will topple
The Avengers
from the top spot over the weekend. The latter, which by Thursday had grossed about $800 million worldwide, might reach the $1 billion mark over the weekend and set a record for achieving that feat in just 17 days.
Dark Shadows
, like many of Burton's films, has received mixed reviews but the drama with vampire and witches blends humour, horror, fantasy and tragic romance in such a way that it should pull strong numbers worldwide. It offers no rousing drama and passion, though it had every potential to do so, and yet it is a handsome and entertaining project.
The marketing of the film, box office expert Ray Subers pointed out, emphasised 'the fish-out-of-water jokes (Depp's vampire awakens in the 1970s after being imprisoned in a coffin for 200 years) and an outlandish sex scene while mostly avoiding any vampiric violence (or the semblance of a story, for that matter).' And the movie stays within those boundaries.
Hollywood insiders expect
The Avengers
to gross nearly $100 million over the weekend in North America and
Dark Shadows
a strong $35 million.
Based on the
Dark Shadows
TV series created by Dan Curtis more than three decade ago, the movie opens in the 18th century as young Barnabas Collins (Depp), the heir to a huge enterprise started by his father in the New World, courts Josette (Bella Heathcote) and in the process drives his former lover Angelique (Eva Green)
insanely jealous.
Vowing revenge, Angelique (who is a witch) kills Josette and puts a spell on Barnabas turning him into a vampire. She encourages the townsfolk to entomb him in a coffin. But Barnabas is freed in 1972, and discovers, among many things, that the successors to his estate have not been able to maintain the property.
It is in this dilapidated mansion that the past comes roaring back as Barnabas sees a governess (Bella Heathcote, again) who rekindles the passion in him and brings back memories of Josette. But, and not unexpectedly, there is also a powerful woman (Eva Green) in the town who is against the Collins', and we soon learn that she is a witch.
The film's focus is on the new efforts by the witch to subdue Barnabas and how his defiance leads to near calamity and disaster. But when the rest of the Collins family, including matriarch Elizabeth (Michelle Pfeiffer), come to his aid and the new governess joins him, hope begins to loom on the horizon.
A subplot involves the resident psychiatrist (Helena Bonham Carter), who after discovering Barnabas's secret starts working on cleaning his blood and injecting human blood into him. The confrontation between her and Barnabas following his discovery about her real motive in offering to help him shows a well acted scene by the two artists.
Burton creates considerable tension between the alluring Green and the conflicted Depp in their new avatars. He hates her and yet he cannot overcome her allure.
It is these two artists who bring some weight to the film which shortchanges the audiences on an emotional level
Though veteran Michelle Pfeiffer brings to the film some appeal, in the final analysis it is Depp's film and his tightly controlled performance that will delight his fans and get him new fans.