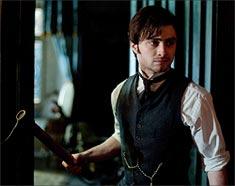 With The Woman In Black, Daniel Radcliffe proves he is more than just Harry Potter.

Blood and gore take a backseat in the modestly mounted and well acted

The Woman in Black

based on a classic novel Susan Hill first published in 1983.

A few months ago, Daniel Radcliffe kept Broadway busy with a light-hearted musical

How To Succeed in Business Without Really Trying

, showing an unseen comic talent, though his singing was lousy. Earlier, he had proved himself to be a consummate artist in the Broadway production of the play

Equus

.

Now, with

The Woman in Black

he is giving yet another indication that he has a life after the blockbuster

Harry Potter

movie franchise.

But this is a film without fireworks and dazzling high tech work. It is richer in atmosphere than in shock value. The box office for the film, which reportedly cost $50 million, could be modest, in the worldwide range of $150-$200 million. But everyone connected with it will happily add to it to their resume, though some critics have pointed out, that Radcliffe seems to be continuing in the brooding tradition of his work in the

Harry Potter

series. Yet, it is not his fault  The film's subject is such that he has to be a bit gloomy, somewhat introvertish and a silently suffering character.

Though it is a first film in about three decades carrying the logo of Hammer Films, a British company known for Dracula, The Mummy and gothic mysteries like The Curse of Frankenstein, the new film is far less sensational than most of Hammer Films. That is a good sign that the movie will appeal to families, unlike the excellent The Girl with a Dragon Tattoo which could turn off some viewers because of its explicit sex scenes and over-the-top

violence.

Arthur Kipps (Radcliffe), a solicitor still grieving for his wife who died in childbirth four years earlier, is sent by his London firm to a remote part of the country to sort out the papers of an old lady who died recently. Kipps takes up the assignment but he is still torn inside by the bereavement and worry over his little boy.

The director James Watkins mounts plenty of tension and an eerie atmosphere as Kipps faces arrives in Yorkshire and faces a village full of roadblocks. Those who are not familiar with the popular book which spawned a radio series, television movie and long-running West End stage play will wonder if anyone has a clean heart there.

The only person who seems  friendly is Samuel Daily (Ciaran Hinds), a wealthy man who is also a troubled person. He has been trying hard to help his wife (Janet McTeer, nominated for an Oscar for Albert Nobbs), who's gone mad after losing their young son. He is a rationalist and she is on the other side of the dividing line.

Kipps is trying to make sense of the strange world around him but his inner turmoil is increased by the physical surroundings and the lonely life he leads in the mansion. When he sees a woman dressed in black at different parts of the mansion, whatever peace was left in him is shattered.

The mystery is satisfactorily solved but not before the audiences, even those who have read the book, have gone through several jolts. But one wishes Watkins had not tried to fill the film with too many conventional horror devices found in the standard Hammer films made over three decades unto the late 1970s. There are too many shots of rocking chairs and you cannot miss the black crow. You wish you could have seen little more of Hinds and McTeer.

Still, on the whole, this is a satisfying mystery.