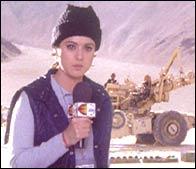 First draft: "Hum press se hain [I am from the press]," she says confidently, flashing the identity card hanging around her neck.
Two minutes later, she sneaks inside a seedy nightclub and cavorts as one of the cabaret dancers to scoop a story.
Second draft: "Hum press se hain [I am from the press]," she says smugly, flashing the identity card hanging around her neck.
Two minutes later, the politician she is interviewing threatens to kill/rape/strangle her if she publishes the story in her newspaper.
Either they are dumb caricatures or ridiculously superficial. Seldom do you get to see a real journalist against a real backdrop in Hindi movies.
In Farhan Akhtar's recently released Lakshya, Preity Zinta played a television journalist covering the 1999 Kargil conflict. In an interview to rediff.com, the actress admitted how playing a news reporter made her respect journalists. She also realised how, by pouting, she could single-handedly destroy the authenticity of the film.
Sounds real enough? It was, to an appreciable extent. Her character – Romila Dutta – was righteous without going overboard. She was serious without being boring. She was sensitive without being weepy. The flip side was the sequences where she read out news. The bulletin might as well have been written by a 12 year-old.
News journalism is serious business. It can be life-threatening, too. So we have journalists escaping bids on their lives.
In New Delhi Times, which was so controversial that it had a hard time finding a cinema hall to screen at, Shashi Kapoor plays a newspaper editor who digs deep into the politics-corruption nexus. It was uncomfortably authentic.
On the other hand, Dilip Kumar's news editor in Mashaal acts within the parameters of commercial cinema. His upright approach towards his profession makes him the target of his enemies. After a series of setbacks, he becomes one of the people he used to write against, much to your disappointment. Contrived, isn't it?
Then there are the social crusaders-cum-press types who pay with their lives or those of their loved ones for publishing the 'absolute truth'. Like Dimple Kapadia in Krantiveer. She exposes the baddies. The baddies kill her parents and assault her.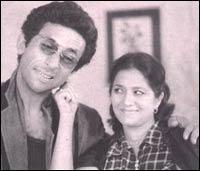 Journalism isn't always about presenting news. Sometimes it is also about sensationalism and selling more copies. Opportunism is an operative word. So is hypocrisy.
Marc Zuber in Kamla, Bhakti Barve in Jaane Bhi Do Yaaron, and Shabana Azmi in Main Azaad Hoon are some of the characters that come to mind as examples. In Kamla, Zuber buys a tribal girl and exhibits her at a press conference to make a point about slavery. That he is a hypocrite in his personal life is revealed later.
Jaane Bhi Do Yaaron's Barve is the editor of an tabloid that seems to be the bane of many a powerful person's existence. You would think she was writing for a cause. But the truth surfaces when she is revealed as just another opportunist.
In Tinnu Anand's desi adaptation of Meet John Doe, Azmi concocts a fictitious article by a fictitious guy, Azaad. When the article meets with astonishing response, she makes a deal with an aimless and unemployed man (Amitabh Bachchan) to parade as Azaad. She uses him for her own professional gain.
In Hindi films, the definition of professionalism is simply stupefying. If the boss wants a story, the heroine [she ceases to be a reporter in masala films] will go to any lengths to get the job done. She also appears to have a penchant for crime-based stories. That would mean entering the villain's den and doing some heavy-duty jhatkas and matkas.
So if Sridevi became Ms Hawaa Hawaai to uncover what Mogambo's men were cooking in Mr India, Raveena Tandon collaborated with the men in khaki to dance to Tu cheez badi hai mast in a flashy discotheque in Mohra. And how can you forget Juhi Chawla and Shah Rukh Khan, playing rival reporters in Phir Bhi Dil Hai Hindustani, dressed in different get-ups to crack a story? If the film was a satire on the politician-journo status quo, it couldn't have conveyed it any worse. Also, what exactly did Sushmita Sen think she was doing in a pub, dancing to Main kudi anjaani re (Zor)? Reporting?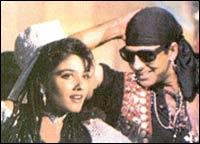 In a country where films and film stars influence people easily, it wouldn't be surprising if the constant misrepresentation of this profession puts off those who want to be part of it!
But then there are a few filmmakers who see journalism as just another profession where you have real people doing their job. Arvind Swamy in Mani Ratnam's Bombay is a case in point. He does his interviews with the same efficacy as a regular reporter in an afternoon daily would. He has a life. He has his principles.
That's what a journalist ought to be like, anyway.