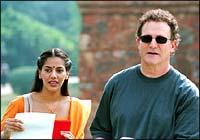 Even before the script for Looking For Comedy In The Muslim World was ready, the writer, actor, producer and director Albert Brooks knew that the only country he wanted to shoot it in was India.

Although he had thought of making the film in Saudi Arabia and Pakistan, and though it was going to make fun of Americans and not Muslims, Brooks (raised a Jew with the given name Albert Einstein) thought he would be more comfortable in India.
He also knew of India's huge Muslim population. It is quite another thing that his character -- he plays a failed actor called Albert Brooks who takes up an assignment to investigate what makes Muslims laugh and write a 500-page report -- hardly interviews Muslims once he reaches India. But then, this stand-up also goes to the Taj in one of the film's many charmingly funny scenes and returns to Delhi having missed it!
Brooks says that a friend suggested Egypt as a better setting. He promptly replied: ''Egypt? That is where Florida Jews go on vacation."

Famous for voicing the role of the daddy fish in the animated hit Finding Nemo, and playing a nervous journalist in the Oscar-nominated Broadcast News, Brooks spent several weeks in New Delhi in 2004 to discuss the film with officials so he could get the required permission to shoot in New Delhi and Agra, he says in New York, where he is promoting the film that opens on January 20.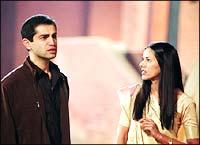 While narrating the story to a cabinet minister in charge of cultural affairs, Brooks recalls that the narration was going smoothly until he mentioned how the misadventures of the American standup bring India and Pakistan to the brink of war. "War between India and Pakistan?" the minister said, pausing for a moment before asking Brooks to continue. "Films dealing with a war with Pakistan do not worry India," he says. "Bollywood films have been dealing with it for a long time."

The officials were concerned that his film should not show Indians eating monkey's brains or following strange rituals like the ones Steven Spielberg showed in Indiana Jones and the Temple of Doom (The film was denied permission to shoot in India, and was shot partly in Sri Lanka with a number of Indian artists including Amrish Puri). While he assured the Indian officials that he had no intention of showing any such things, he says he also suggested that they not think twice about letting Americans (or any other country) shoot such films. "With computer graphics, anything can be done today," he says, chuckling. "So I said, why not make the film in India and take our money?"
'America needs to kick itself in the butt'
Looking For Comedy is the sixth film Brooks has directed in about two decades. Among his more popular films is Mother, which starred him and Debbie Reynolds in a great role as a domineering mother.

In his latest effort, Brooks is off to New Delhi with two agents (John Carroll Lynch, Jon Tenney) who do nothing to make his life easy, and is joined by a bright young assistant (Sheetal Sheth) who has a jealous Iranian boyfriend. It takes Brooks a few days to realize that Indians are not enjoying his brand of humour. And when he crosses secretly into Pakistan to meet the country's comedians, he hears them laugh at his jokes, but only because they are stoned.

Brooks also discusses at length how Sony's decision not to release the film cost him five months of his life. He would not have the word Muslim removed from the title, as per Sony's demand. ''After all, the reason to make the movie, and the reason for that title," he says ruefully, "is to try in a small way to puncture the fear many Americans have of Muslims, especially after 9/11," he says.

Reams of publicity followed over the controversy and Warner Independent Pictures, which is emerging as one of the hottest art-house distributors, bought the film.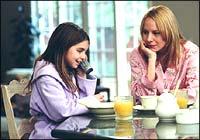 "I never talk about religion in the film, and most of the jokes are on me, and, by extension, on the Americans," he says. In one of its funniest scenes -- at least for American audiences -- the former Republican Senator Fred Dalton Thompson, who
is also a movie and TV actor, appears as himself spearheading the diplomatic mission that will send Brooks to India and Pakistan. When Brooks wonders what the president thinks of the unusual mission, Thompson tells Brooks: "The president has a great sense of humour."
There's a huge Muslim population in the world that Americans just don't understand, Thompson says, adding, "Usually we rely on spying and fighting, the usual things. This time, we want to try something different." So, Brooks' character is told to go to India and Pakistan, find out what makes 300 Muslims laugh and write a 500-page report. When Brooks protests that he is not the best choice for the job, he is told that the first choices are already working. When Brooks protests that he has never written anything even 10 pages long, Thompson says that government reports average 800 pages. And a member on the commission blandly tells him not to worry over the report too much, adding that no one ever reads them anyway.

In another genuinely funny sequence, Brooks is excited when he hears from the New Delhi office of Al Jazeera. He thinks the Arab network is going to interview him about his research in India. But he is shocked when Al Jazeera offers him a sitcom about an American living among Muslims. He is even more shocked that it is going to be called That Darn Jew. Even as he declines the offer, with a certain amount of indignation, he hears one of the Al Jazeera bosses wondering which other Hollywood Jew could be available.

Early reviews for the film have been fairly positive, though some wish it could have been more satirical, and that Brooks could have learned a few things from Muslim stand-ups in the UK who are not afraid of laughing at themselves. "Brooks builds the (Al Jazeera) joke as a reverse whammy. Since 9/11, the media have treated us to countless variations of That Darn Muslim,
an easy villain pigeonholed as bomb-throwing fanatic," wrote Rolling Stone magazine.

The magazine also warned readers against expecting a hugely funny film. "Given the controversy, you'll be thrown at first by the surface blandness of this mock documentary," it added. "The laughs are decidedly hit-and-miss. But stick around, this satire knows how to bite you when you least expect it."