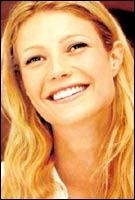 All the world's BritRock fans, assured by unlikely messiah-of-the-moment Gwyneth Paltrow, can now sigh with relief.
Chris Martin's uber-successful band, Coldplay, might have its share of teething troubles as they totter precariously on the edge of full blown rock superstardom, but an interfering Yankee wife will, thankfully, not be one of them.
Gwyneth, star of Sky Captain And The World of Tomorrow, refuses to interfere with her husband Chris Martin's band, because she's mortally afraid of becoming his Yoko Ono, reported WENN.
The actress, a capable singer as evidenced in the karaoke movie Duets (in 2000), fears their careers crossing paths could cause problems in the band and, resultantly, their marriage.
Says Gwyneth, 'Music is one area that he doesn't give me advice on because that's starting to encroach on each other's career. The sure way for a marriage to start hitting problems is when you start sharing careers as well. We have an understanding that our careers must be kept apart.'
Ever since the Beatles' tragic split up because of John Lennon's consort Yoko Ono's constant intrusions within the band, 'the frontman's woman' has always been a position considered sinister and evil among fans of British Rock, which is why Paltrow's quote must seem so heartening now: 'People ask if I will sing with the band or do a duet, but always in the front of my mind is the Yoko effect. I don't want to be known as the girl who split up Coldplay.'