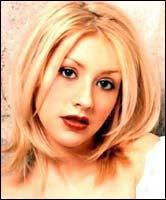 US pop sensation Christina Aguilera will be visiting India in the first week of December.
The Grammy and MTV Video Music award-winning artist will visit the Sahara Amby Valley Lake City for three days to explore 'mysticism and spirituality.'
"This is Christina's first visit to India on the invitation of our group and I am sure that she will enjoy her stay thoroughly and discover the cultural diversity of India," said Sahara's Head of Corporate Communication Abhijit Sarkar.