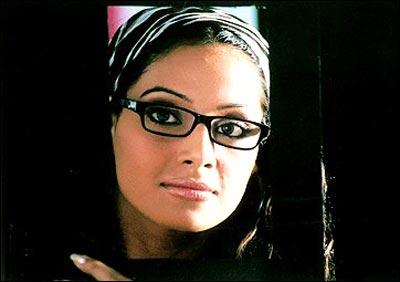 Saurabh Shukla is referred to as 'Kallu Mama' in the film industry after his memorable essay in Satya.

He directed the forgettable Mudda in 2003, starring Aryan Vaid and other lesser-known actors, which disappeared without a trace.

Now he is back with Chehra, starring Dino Morea, Bipasha Basu and Preeti Jhangiani.

The film is a thriller in which Dino Morea plays a psychiatrist.

"I've just finished Rakht and played a negative role. It was a volatile aggressive character. And in this film I play a well-off doctor. If people see Rakht and this film, they will get to know my versatility as an actor," claims Dino Morea.

The film begins in a medical college where Dino and Bipasha are students. One fine day, Bipasha disappears and then meets Dino again after

five years. She is now married to Irfaan Khan, who plays a billionaire in the film. Preeti Jhangiani is the other heroine.

About his preparation for Chehra, Dino revealed, "I have met up with psychiatrists and found out that they don't wear white overcoats like doctors do. I met them to get a feel of the character. A psychiatrist's job is only to talk to the patients."

The film is shot in Dubai, Pune and Mumbai.

Asked how much Jism is shown given that Bipasha stars in the film, Dino retorted, "There is no Jism but only Chehra, the faces."

Speaking about his life, Saurabh says, ""I started my career as an actor, and it was not easy to jump careers. I have always attempted my best in acting whenever I got a chance. Kallu Mama is not the end of the world. For me, in my life Kallu Mama is a symbol of good work. I have to grow up. It is fortunate that people still remember me by that role in Satya."