It's time to celebrate the Roshan family and their music.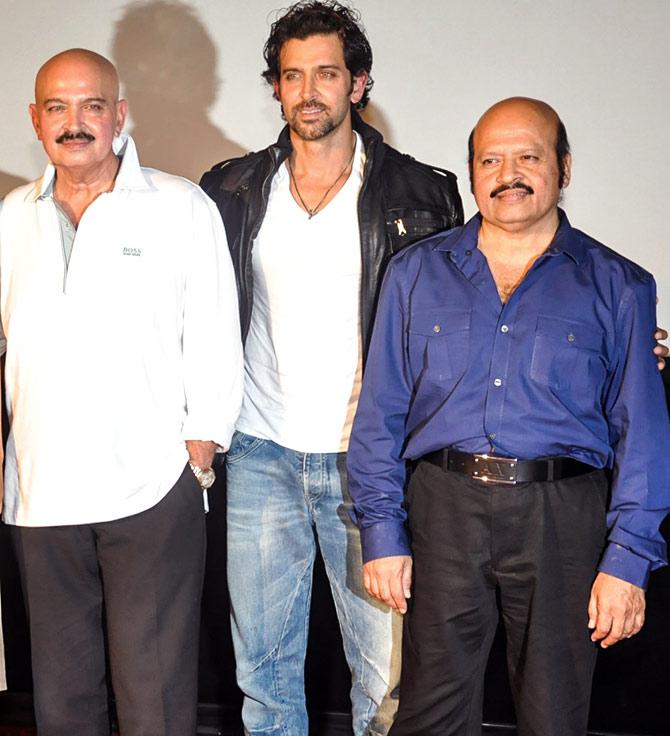 Long before Duggu stole Bollywood's heart, there was his grandfather, the magnificent composer Roshan
Roshanlal Nagrath -- or simply Roshan as he preferred to be called -- created such jewels like Na To Karavan Ki Talaash Hai and Zindagi Bhar Nahi Bhoolegi Woh Barsaat Ki Raat (Barsaat Ki Raat); Jo Vada Kiya Woh Nibhana Padega, Paao Chhoon Lene Do, Jurm-e-ulfat pe (Taj Mahal, for which he won the Filmfare Award for Best Music in 1963); Nigahen Milane Ko Jee Chahata Hai and Laaga Chunari Mein Daag (Dil Hi To Hai); Rehte The Kabhi Jinke Dil Mein and Rahen Na Rahen Hum (Mamta); Chuppa Lo Yun Dil Mein Pyar Mera (Devar) among many others.
Sadly, a year after he composed the memorable music for Devar, Roshan died of a heart attack in 1967. He was just 50.
His two sons, Rakesh and Rajesh, then joined the family trade. Rakesh became a moderately successful actor. Rajesh a fine composer, a true heir of his father's music.
Remember O Mungada Mungada (Inkaar), Chal Kahin Door Nikal Jayen (Doosara Aadmi), Chhu Kar Mere Manko (Yaraana), Bhool Gaya Sub Kuchh (Julie) among innumerable classics?
After his acting career faded, Rakesh turned to direction, quickly becoming one of the most successful film-makers in Bollywood. His brother's scores accompanied every one of his movies; each film had several Rajesh Roshan chartbusters.
Then, in January 2000, Rakesh's son and Rajesh's nephew made his movie debut.
Would Kaho Naa... Pyaar Hai be the blockbuster it was without Rajesh Roshan's foot-tapping songs?
This weekend -- on Saturday, January 20 -- the Roshan family and their grand musical legacy will be celebrated at a must-attend concert, Roshan Se Roshan Tak, in Mumbai.
Alka Yagnik, Kumar Sanu, Udit Narayan, Abhijeet, Mohammad Aziz and Pawani Pandey will pay tribute to Roshan and his son Rajesh Roshan's music.
Brother Rakesh Roshan and nephew Hrithik are expected to attend the concert at the Kora Kendra grounds in Borivli, north west Mumbai.
Roshan Se Roshan Tak is presented by Surya Sinha, produced by Prakaash Singhee, Prakassh Nathan and Pradeep Ghia, It is organised by Anant Musical Dreams and Munchers media. Tickets are on bookmyshow.com
IMAGE: Rakesh, Hrithik, Rajesh Roshan. Photograph: Pradeep Bandekar