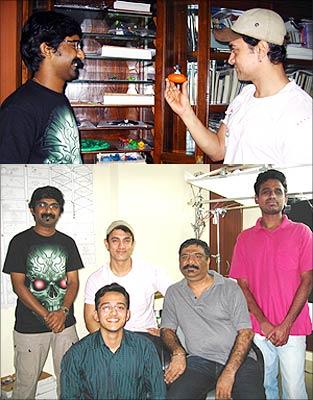 Reader Arvind Chudasama sent us pictures of the clay animation used in the film, Taare Zameen Par.
He is a clay model maker, who worked under Dhimant Vyas, the creator and designer of the clay animation sequence.
Arvind met Aamir on November 11, last year, to work on the animation seen when the titles rolled at the start of the film.
Arvind writes that Aamir, who watched them making the clay models, was very friendly and down-to-earth.'
Arvind also shares that Taare Zameen Par was not only Aamir Khan's directorial debut, but it was also the debut of clay animation in Hindi cinema.
In the picture: Arvind with Aamir (top). Bottom: Arvind, with Aamir, Dhimant Vyas, Harshad and Vishal.
If you encounter/meet/see film or television personalities and take a photograph or a video of the star(s), please scan the photograph(s) and mail the pictures and video clips to us. We will feature the best images and video clips right here on Rediff Movies.