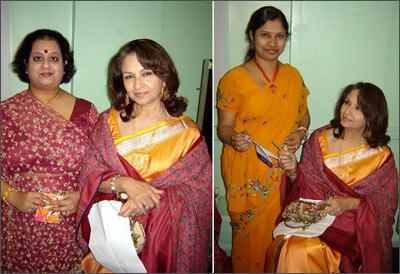 Reader Kaushik Bhattacharya sent us pictures of Sharmila Tagore, who was in London for the Durgapuja/Dusserah celebrations. The actress was reciting Bengali poems for a Bijoya Dashami cultural programme organised in London's Camden Hall by London Durga Puja Dusserah Committee.
Kaushik writes that his wife, Aditi, and Geetashri Roy (featured here) are massive fans of the actress and requested for her autograph and photographs. Sharmila did not speak much, but was very graceful.
If you encounter/meet/see film or television personalities and take a photograph or a video of the star(s), please scan the photograph(s) and mail the pictures and video clips to us. We will feature the best images and video clips right here on Rediff Movies.