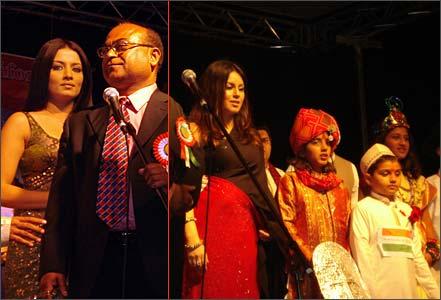 Reader Nina Hareesh was part of India's 60th Independence Day celebrations organised at Artesia High School, California, on August 11.
Her daughters Noyonika and Nayantara and niece Mishka performed at the function and thus, got a chance to meet Celina Jaitley and Mahima Chaudhary up close.

Nina writes, 'Both Celina and Mahima were vivacious and very friendly. They arrived at different times. Mahima first, and Celina, an hour later.'

When somebody from the crowd asked Mahima her newborn daughter's name, she said she hadn't chosen one yet.

Celina, meanwhile, responded with a dazzling smile when a fan complimented her on her looks.
If you encounter/meet/see film or television personalities and take a photograph or a video of the star(s), please scan the photograph(s) and mail the pictures and video clips to us
. We will feature the best images and video clips right here on Rediff Movies.