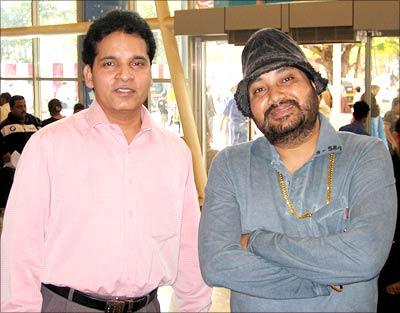 Reader Swetha Iyengar sent in a picture of her father.
The family was at Mumbai airport when they happened to spot popstar Daler Mehndi. They're all big fans of Daler's rendition of Rang De Basanti title track.
Here, the singer is pictured with Swetha's father, Deepak Deshpande.
'Dalerji didn't put on any airs, was very approachable and even spoke a few words with my dad,' writes Swetha.
f you encounter/meet/see film or television personalities, take a photograph or a video of the star(s), please scan the photograph(s) and
mail the pictures and video clips to us
.
We will feature the best images and video clips right here on Rediff Movies.