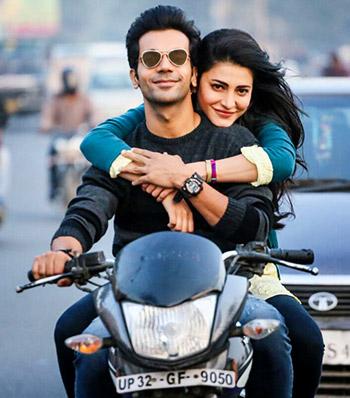 Behen Hogi Teri filmmaker Tony D'Souza out on bail.
Pahlaj Nihalani says no messing around with religious sentiments.
Subhash K Jha reports.
Tony D'Souza still doesn't know what hit him when he was whisked away last week for hurting religious sentiments.
After 48 hours in police custody in Jalandhar, the producer and director of Blue, Boss and Azhar returned home in Mumbai.
"I still don't know what happened. I was suddenly taken away," says Tony. "It took me a while to understand why I was being arrested. I wasn't even aware of the objectionable scene."
"I am out on bail. And the less I speak, the better it is," adds Tony.
The scene that caused Tony so much trouble shows Rajkumar Rao dressed as Lord Shiva riding a two-wheeler in a Behen Hogi Teri promo.
"We found the scene showing Rajkummar Rao dressed as Lord Shiva riding a two-wheeler to be objectionable," says Censor Board boss Pahlaj Nihalani.
"We knew it would cause trouble. We removed it before granting the film censor certification. But the promo carried the scene and the damage was done."
Didn't Akshay Kumar playing Lord Krishna ride a motorcycle in Umesh Shukla's Oh My God?
Didn't Rajkumar Hirani's PK feature an actor made up as Lord Shiva in a chase sequence?
"Both films and scenes were passed before my tenure," Nihalani points out.
"I'd say this in defence of Akshay Kumar's scene in Oh My God that he was never dressed like a God. He dressed and behaved like a normal person although he played God."
While I try to process this mindboggling Nihalanian logic, the Censor Board boss says, "I'd have never passed the scene in PK. We got a lot of complaints from many parts of India for that (scene)."
"We are very careful about not hurting religious sentiments."