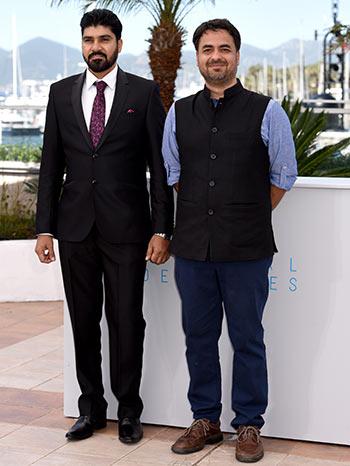 Chauthi Koot is the first of two Indian films in Un Certain Regard.
A prime afternoon slot and a full theatre were promising for a start.
Then, Gurvinder Singh with his Chauthi Koot (Fourth Direction) team got a lot more than a formality of welcome. In the audience was Minister of State, Information and Broadcasting, Rajyavardhan Rathore.
On stage, the introductions of director and team were effected by the man who, in effect, runs this festival of film festivals, Thierry Fremaux.
Finally, the film.
This is a co-production of France's Catherine Dussart Productions, India's National Film Development Corporation, Kartikeya Narayan Singh's The Film Café and Sunil Doshi's Handmade Films. If this first screening is anything to go by, the Fourth Direction points surely to success on artistic and commercial fronts.
It is set in the tense time in the Punjab soon after Prime Minister Indira Gandhi's assassination.
Two pairs of people wanting to reach Amritsar falter on the way for different reasons. That's two of the story's three tales. The third and main one is of farmer Joginder and his small family, including Tommy, their dog.
They are driven by fear, on the one hand, from roaming terrorists and, on the other, from the local police familiar in their methods of high handed brutality. The terrorists want Tommy dead. His barking attracts attention and thus danger. The police echo the idea. The family will have none of it. But Tommy faces his end from an unexpected source.
The film is a depiction of an old story told in a gripping new way: it's always the humble and helpless who suffer most when potent forces clash.
Gurvinder's economy of style recalls Mani Kaul. But here is a more recent understanding of cinematic resources and how to use them to bare human emotions. It is refreshing and whets one's appetite for the director's next work, now that he has Alms of the Blind Horse and Chauthi Koot in his filmography. And, oh yes, Tommy is certainly in the running for Cannes' unique Palme d'Og annually awarded for many years to notable canine portrayals (a clever pun of course on Palme d'Or, Golden Palm, the top prize here).
Chauthi Koot is the first of two Indian films in Un Certain Regard, a section that is just one step behind in prestige the main Competition itself, a rare bestowal.
In the picture: Actor Vikky Suvinder and director Gurvinder Singh attend a photocall for Chauthi Koot - The Fourth Direction during the 68th Cannes Film Festival on May 15. Photograph: Ben A Pruchnie/Getty Images