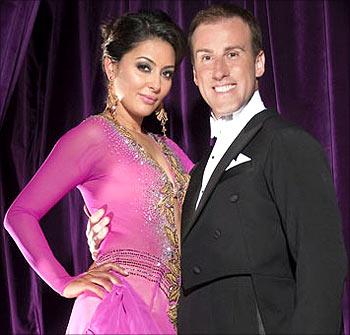 Veteran British showman Bruce Forsyth has said that the Strictly Come Dancing star Anton Du Beke's use of the offensive term 'Paki' for his show partner Laila Rouass was wrong.
The 81-year-old said previously told Talksport radio that the race row was being taken too far.
But in a recent statement, the entertainer clarified his views, saying he does not 'excuse or condone' racism, reports The BBC.
He said: 'I have been asked by a number of journalists to clarify what I meant and am therefore issuing this statement via the BBC, though I must emphasise that these are my personal views and not necessarily those of the BBC.
'What Anton said to Laila was wrong and he has apologised unreservedly for this.
'Nor do I in any way excuse or condone the use of such language. To be absolutely clear, the use of racially offensive language is never either funny or acceptable.
'However, there is a major difference between this and racist comments which are malicious in intent and whilst I accept that we live in a world of extraordinary political correctness, we should keep things in perspective.'
Image: Laila Rouass and Anton Du Beke