Veteran Hollywood actor Charles Bronson has died at the age of 81 after a bout of pneumonia, CNN reported on Sunday.
The end came at the Cedars-Sinai Medical Centre in Los Angeles on Saturday, August 30.
Bronson acted in more than 60 films, including the 1974 blockbuster Death Wish. Known for his rugged looks and tough-guy roles, the actor himself once remarked, "I guess I look like a rock quarry that someone has dynamited."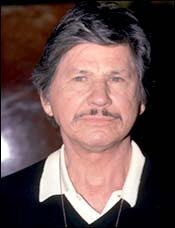 Stardom came rather late in life to Bronson, when he began playing angry old men who did not flinch from using extreme violence and taking the law into their own hands. The actor was named the biggest box-office star by the Hollywood Foreign Press Association in 1972, when he was already over 50. His biggest blockbuster, Death Wish, was made in 1974, when he was 53. And he received the Gold Star Award as the film industry's top international star in 1979, at the age of 57.
Born Charles Buchinsky to immigrants from Lithuania on November 3, 1921, in Ehrenfeld, Pennsylvania, Bronson was the only one of 15 children to complete high school. But thereafter he had to join his brothers in the Pennsylvania coal mines to support their large family.
Bronson served in World War II as a tailgunner in a fighter aircraft. After the war, he studied art in Philadelphia and enrolled at California's Pasadena Playhouse, where he was noticed by director Henry Hathaway and cast in You're in the Navy Now (1951). He later took the name Bronson, reportedly from the Bronson Gate at Paramount Studios.
Bronson did more bit roles as a toughie until he got slightly more meaty roles in Pat and Mike (1952, Katharine Hepburn) and the first big 3D film House of Wax (1953) as Vincent Price's mute assistant Igor.
But his lead roles were confined to B-grade movies and he had to wait until 1960 before he could achieve some measure of recognition with John Sturges's The Magnificent Seven (1960), where he essayed the role of Bernard O'Reilly, one of the killers hired by Yul Brynner to rid a Mexican village of the bandit menace. This was reinforced by his roles in two WWII multi-starrers, The Great Escape (1963, also directed by Sturges) and The Dirty Dozen (1967, Robert Aldrich).
Unlike some of his contemporaries, Bronson became a big star abroad before he became one at home, as he moved to Europe in 1967 and did several movies there, including Sergio Leone's classic Once Upon a Time in the West (1968).
Ironically, Leone had originally offered Bronson the role of The Man with No Name in A Fistful of Dollars. That role was eventually essayed by a newcomer called Clint Eastwood, and it made him an international star.
Bronson eventually achieved major star billing in the US with a series of films in the early 1970s, including the gangster movie The Valachi Papers (1972, Terence Young) in which he essayed the role of Joe Valachi, the man who first broke the Mafia's code of silence and gave evidence against Don Vito Genovese.
His biggest hit followed two years later in Death Wish (Michael Winner), a violent revenge drama in which Bronson played New York architect Paul Kersey, who takes the law into his hands when his wife and daughter are raped. The film was so successful that it had four sequels in 1982, 1985, 1987 and 1994, all starring Bronson.
Bronson was married thrice. His first wife was Harriet Tendler, to whom he was married from 1949 till their divorce in 1967. They had two children. He then married actress Jill Ireland in 1968 and had a daughter from her named Zuleika.
Bronson remained with Ireland till her death from breast cancer on May 18, 1990, staying by her side through her illness and nursing her to the end.
In December 1998, he married his third wife, Kim Weeks.