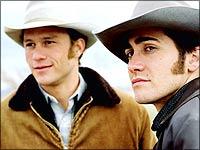 It's Oscar time.
Today, nominations for the 78th Annual Academy Awards were announced by Academy President Sid Ganis and Oscar-winning actress Mira Sorvino, in the annual, traditionally subdued early morning declarations.
Best Foreign Film was a category Indians were looking eagerly at after submitting Amol Palekar's Paheli, but the Shah Rukh Khan film was left out in the cold. The nominees in that category are: La Bestia Nel Cuore, from Italy; Joyeux Noel, from France; Paradise Now, from Palestine (winner of the Globe in the same category); Sophie Scholl - Die Letzten Tage, from Germany; and Tsotsi, from South Africa.
The full list of Oscar nominees
Brokeback Mountain was always going to be a frontrunner, after scooping up 4 Golden Globes, but Ang Lee's tender tale of love between two cowboys has done dramatically well, securing a total of 8 nominations. Brokeback is up for Best Actor (Heath Ledger), Best Supporting Actor (Jake Gyllenhaal), Best Supporting Actress (Michelle Williams), Best Adapted Screenplay, and the two big ones -- Best Director for Lee, and Best Picture.
Crash did remarkably well, surprising most by pulling off 6 nominations. The ensemble drama, directed by Paul Haggis, the Oscar-winning screenwriter for Million Dollar Baby, is up for Best Picture, Best Director, Best Supporting Actor (Matt Dillon), Best Original Screenplay, Best Editing, and Best Song.
There were no big shocks in the Best Actor category, with Philip Seymour Hoffman predictably showing up for his unanimously applauded work in Capote. He is joined by Heath Ledger, from the omnipresent Brokeback; Joaquin Phoenix from the Johnny Cash biopic Walk The Line; critical favourite David Strathairn from Good Night, And Good Luck; and rising underdog Terrence Howard for Hustle & Flow.
Most Globe watchers could have predicted the Best Actress category in their sleep. Felicity Huffman, who won the Globe for portraying a transsexual in Transamerica, is here, as is Reese Witherspoon, who won the same (only the slightly less important Musical/Comedy version) for her work in Walk The Line. Charlize Theron (for North Country) and two British women round off the nominees -- Dame Judi Dench (Mrs Henderson Presents) and Keira Knightley (Pride & Prejudice).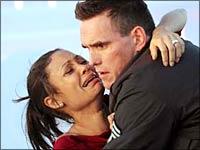 In the running for Best Supporting Actor are Paul Giamatti (Cinderella Man), George Clooney (Syriana), Matt Dillon (Crash), and Jake Gyllenhaal (Brokeback), with the interesting inclusion of William Hurt, from David Cronenberg's A History Of Violence. The film has been tremendously overlooked in the nominations, only managing one nomination for Adapted Screenplay and missing out on credit for Director or Picture.
The Best Supporting Actress Category features a couple of lesser-expected names, like Amy Adams for Phil Morrison's whimsical Junebug, Catherine Keener for Capote, and Michelle Williams for Brokeback. The remaining contenders are the strongest in the group -- Frances McDormand for Niki Caro's North Country and Rachel Weisz for Fernando Meirelles' The Constant Gardener.
Best Director nominees are the usual suspects -- Ang Lee for Brokeback, George Clooney for Good Night, And Good Luck, and Steven Spielberg for Munich -- joined by Paul Haggis for Crash and the unexpected Bennett Miller for Capote. Cronenberg and Woody Allen (Match Point), expected contenders, were shafted. Match Point also failed to garner noms for acting, even as Scarlett Johansson was being heralded as a frontrunner, and has to be content with a Best Original Screenplay mention.
Best Original Screenplay, a category throwing up the quirkiest and most interesting films over the last few years, is a hotly contested one this year as well, with Match Point, Syriana, Crash, The Squid And The Whale, and Good Night, And Good Luck. Best Adapted Screenplay noms go to Brokeback Mountain, based on Pulitzer Prize-winning journalist Annie Proulx's novel; Capote, based on Gerard Clarke's book; The Constant Gardener, based on the John Le Carre novel; Munich, based on the book by George Jonas; and A History Of Violence, based on John Wagner and Vince Locke's graphic novel.
The awards will be held on March 5 at the Kodak Theater in Hollywood, California, and will be hosted by Jon Stewart.