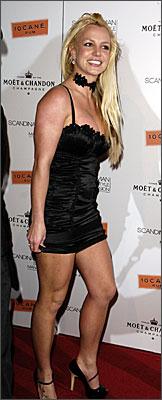 It seems all the hoopla surrounding her life has taken a toll on Britney Spears.
The troubled singer was taken from her house by ambulance early on Thursday, police told The Associated Press.
On the condition of anonymity, a Los Angeles police officer, said the 26-year-old pop star was being taken to 'get help' but did not say where the ambulance was going.
Spears has been grabbing headlines for her increasingly bizarre behaviour ranging from shaving off her hair to attacking a car with an umbrella.
The star is currently fighting for visitation rights of her sons, Sean Preston, 2, and Jayden James, 1 from ex-hubby Kevin Federline.
Earlier on January 3, police were called to her Studio City home when she refused to return her sons to Federline. Paramedics were later called in to haul Spears to a hospital for undisclosed reasons. She was released after a day and a half in Cedars-Sinai Medical Centre.
Photograph: Toby Canham/Getty Images