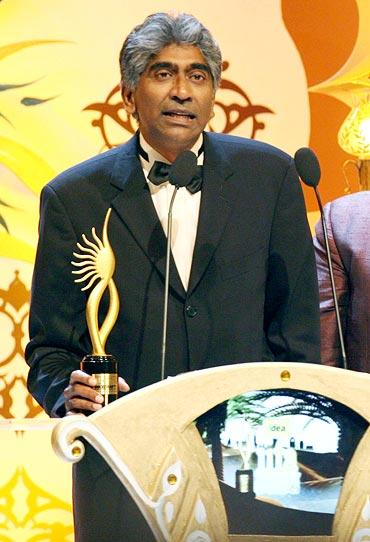 Professional tennis and Hollywood -- they're two of the world's most competitive industries. But, boy, how they differ!
Imagine, then, one man making a major mark in both. He'd have to be extraordinary, no? Say hello to Indian tennis star and chairman/CEO of Hyde Park Entertainment, Ashok Amritaj.
The younger brother of fellow Indian tennis stars Vijay Amritraj and Anand Amritraj, Ashok landed up in America in the mid-1970's to pursue a career in tennis, his second love.
His first love? Cinema, of course.
Amritaj explained as much in Variety magazine cover story set to hit newsstands on May 16.
In the revealing interview, Amritaj traces his unlikely and fantastic journey from imported tennis talent to top Hollywood producer.
First, he fondly recalls skipping tennis practice in Chennai to see films like Ben-Hur and The Sound of Music, saying that even then the seed had been planted.
He goes on to mention his introduction to Los Angeles, the city's that captivated him from the day one, the city he still calls home today. "I knew when I first hit L.A. I wanted to be in the entertainment business," Amritaj told Variety.
From there, he talks about the near-impossible crossover -- from tennis star, to tennis coach to the stars, to celebrity confidante, to business partner -- which today has made him one of Hollywood's most successful producers: He has over one hundred productions and more than a billion dollars in revenues to his credit.
He formed Hyde Park Entertainment in 1999 and has made movies with every major studio in Hollywood, including working with top directors like Barry Levinson, Brad Silberling and Garry Marshall, and Hollywood stars like Jean-Claude Van Damme, Kate Hudson, Sandra Bullock, Steven Martin, Dusten Hoffman and Bruce Willis.
Interestingly, Amritaj has never lost sight of his Indian heritage, and has even gained an appreciation for the culture as time has passed. His Beverly Hills backyard tennis sessions with the stars are known to culminate in much-anticipated Indian food for the Hollywood A-listers in attendance. "I love Indian food... And I love bringing together Indian and Western cultures," he reportedly told the Calcutta Telegraph. 
But while he's done his part to bring together Indian food and Western palettes, there are some who think he's done less for Indian films and Western audiences, and say he spends too much time on Hollywood. But, according to Amritaj, the Indian cinema-Western cinema fusion is destined to be, just not immediately.
"I think Hollywood and Bollywood are on parallel tracks at the moment… Crossover is a crazy word. We need Indian movies to break through beyond just home and diaspora audiences, but it will be a while before Indian films can get a western audience. However, I do think it will happen," he told the Telegraph.
Photograph: Jack Dabaghian/Reuters