Holding onto the steadiest run anywhere, Om Shanti Om, reached $3.5 million by November 27, making it the highest grossing  Bollywood film in the lucrative territory North American territory. The news was the only silver lining for Bollywood films here, as Saawariya has been flattened out, and last week's Dhan Dhana Dhana Goal opened weakly.
And yet Shah Rukh Khan won't be able to beat the John Abraham record with Water, the highest grossing Hindi film ever, with a $5 million plus gross in North America. As per the current rate of attrition OMO could end its run with about $3.8 million  here.
But Water, directed by Deepa Mehta and starring Lisa Ray and Abraham, also played well in mainstream theaters. In fact, some box-office observers believe most of its collections came from non-Asian audiences. 
In America, it was distributed by Fox Searchlight which took extensive ads in publications ranging from The New York Times to The Washington Post to San Francisco Chronicle. It  took over eight months to reach the milestone.
The Shah Rukh Khan musical OSO has been running for less than a month. While in other territories including India and the United Kingdom  the film plummeted by about 60 percent from the second week onwards, the drop has been lowest in America, hovering around 50 percent.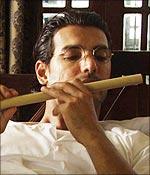 Meanwhile, Saawariya, which opened with a decent $540,000 in its first weekend plummeted by a record 90 percent in its second weekend not only in North America but also in India and other territories.  
While becoming the highest grossing Bollywood film OSO flew past another SRK starrer Kabhi Alvida Naa Kehna which had grossed  $3.2 million last year. But that film had a stronger cast, with Amitabh Bachchan, Abhishek Bachchan, Ranee Mukherji and Preity Zinta
"The record run of OSO is even more commendable considering that Deepika Padukone who plays the lead opposite Shah Rukh is a rank newcomer," said Ken Naz, the head North American honcho at distributor Eros.
Last week's release Dhan Dhana Dhana Goal which was in 32 theaters (big budget Hindi films usually open in 60-70 theaters), tanked with a $91,200 in five days, starting on Wednesday to capitalize on the  Thanksgiving Day.  But in the United Kingdom it fared better, grossing  $118,558 on 28 screens over the first 3-day weekend.
But having grossed $3.3 million on the first weekend in India, Middle East, Africa and Australia, the film may eventually recover the investment.