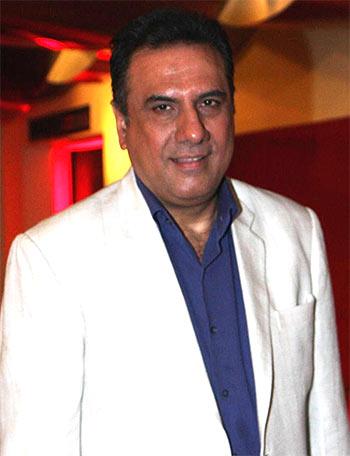 'I recently visited Farah Khan's house and it smelled really nice. Rajkumar Hirani is very particular about how his house looks and smells.'
Boman Irani discusses the fragrances in his life!
One of the finest actors in Hindi cinema, Boman Irani knows the sweet smell of success. The versatile actor has done a variety of roles in his 14-year career.
He recently became the brand ambassador of AmbiPur, the air freshener, marketed by P&G.
His sense of smell, he jokes, is very keen when it comes to food.
"I am a Parsi and we all enjoy food, so I am really good with the smell of food.
"I can tell you what's been cooked from a long distance especially when someone is cooking dhansak (a Parsi dish). In fact, according to a survey, smells from cooking garlic, tadka, and cooking oils are the most common odour in Indian households."
He likes more refined types of smells too.
"I take a lot of interest in perfumes. I take a long time to choose and pick a perfume." But, "I also love the smell of petrol," he says, swinging to the other extreme.
The 55-year-old actor reveals the celebrity whose house smells really good.
"I recently visited (director and choreographer) Farah Khan's house and it smelled really nice. Raju (Rajkumar Hirani) is very particular about how his house looks and smells."
In his 14 years as an actor, Irani has portrayed many characters. What keeps him going is the fact that he enjoys his work.
"I love to act. I don't see any role to be big or small. I like to play important and meaningful characters. I won't do an unimportant role. The characters of J Asthana and Khurana in Munnabhai MBBS and Khosla Ka Ghosla respectively, were important. They are crucial to the film. Without them, there is no film. In fact, in Khosla Ka Ghosla, I had just seven scenes but it is up to the actor to make every scene count," he says.
Recently, he has slowed down a little and he explains why.
"I have been working non-stop for so many years and it takes a toll on your health. It is sometimes necessary to take a pause, think and reinvent. I don't think it is necessary to take every single film that is offered to me," he answers.
Irani says that his wife Zenobia has been his biggest support system.
"She is my conscience. She is my biggest critic. If she doesn't like me doing something, she will be honest about it rather than being diplomatic," he says.
The actor is currently shooting for Rohit Shetty's Dilwale.
"This is the first time I am working with Rohit. I have heard stories about how fun and exciting it is on his movie sets and now I am actually experiencing it. He treats his entire team as one big happy family."
Of his Dilwale co-star, Johnny Lever, he says, "is a gem. He is the funniest person I have ever come across and at the same time he has a heart of gold. His take on the lighter side of life is amazing."
In the picture: Boman Irani. Photograph: Abhijit Mhamunkar