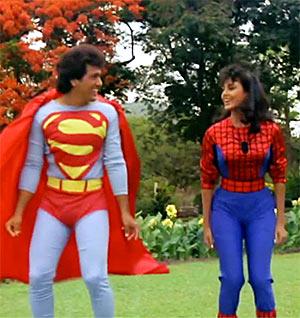 These Bollywood gems truly deserve two thumbs up!
Not all wonderment concerning Bollywood is to do with glory.
Sometimes it's the absurd or audacious nature of celluloid events that leave us stumped before we laugh out loud. Sometimes, it's just the irony. Sometimes, it's the datedness of it all.
Looking back at movies can be both educational and exasperating. Mostly though, it's fun, crazy fun, when leading to hilarious retro gems such as these.
Here are some more:
Superheroes No 1!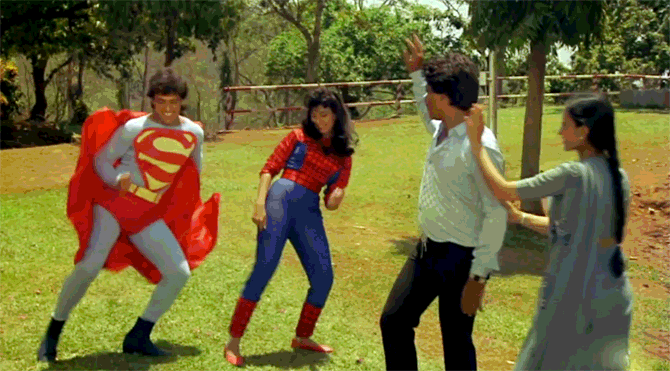 Image: Govinda and Kimi Katkar in Dariya Dil
To witness Govinda and Kimi Katkar gyrating around Mumbai's Aarey Milk Colony, dressed as Superman and Spiderman, is just the sort of epicness every Hindi movie buff prays for every night before going to bed.
(Don't think it's a crossover Bollywood devised on its own, DC-Marvel did publish a combo issue in the 1970s where the two rival superheroes indeed come together. Yay for research!)
God bless K Ravi Shankar for this dream-come-true song sequence in Dariya Dil titled Tu mera Superman main teri Lady. Think they meant Spidey, galti se mishtake ho gaya?
Our desi superheroes are so skinny; they have to roll up their sleeves to give some semblance of muscularity. And so it's particularly droll to watch Govinda lift a thug by his, um, privates singlehandedly but not as much as the victory dance the duo appear to be lost in while the rescued couple bids them adieu.
Baal baal dekho!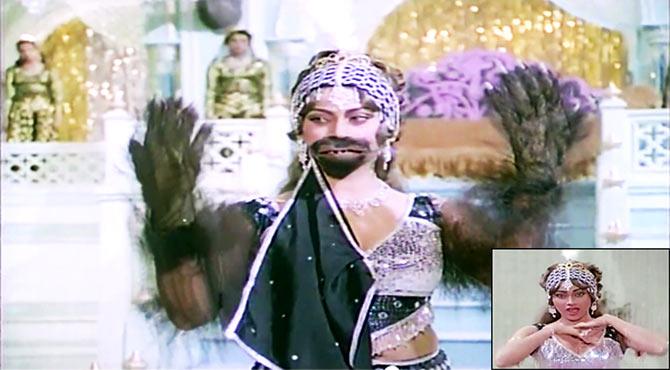 Image: A scene from Hatim Tai
In the pantheon of 'so bad it's good' movies, Jeetendra's forgotten fantasy flick, Hatim Tai, finds a venerable spot. One sees all sorts of grotesque razzle-dazzle through its course of 160 minutes as he goes about cracking seven tough riddles to end a fierce spell.
For a film that boasts of Amrish Puri as villain, nothing quite prepares us for this bizarre sight-- a maiden with an extreme case of Anil Kapooritis aka body hair.
The camera sure takes sadistic pleasure in highlighting all that carefully pasted fake hair, which shaves itself within seconds following jumping Jeetu's valiant fire-walking display. As if echoing the 'bas chutkiyon mein' sentiment of those classic Doordarshan-day commercials, the ecstatic maiden wastes no time in flaunting her new, improved, silky smooth skin.
The long and short of it!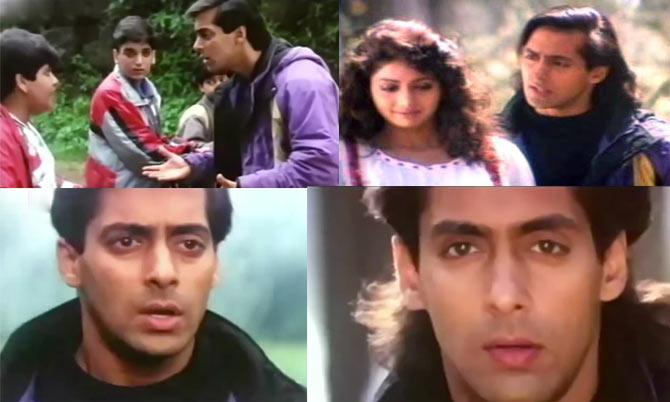 Image: Salman Khan in Chandra Mukhi
It's not just Salman Khan's character that grows big and small in Chandra Mukhi (which proves he's inherited none of father Salim's extraordinary storytelling skills) but his hair too.
Yep, the same movie where Sridevi plays a fairy who turns a schoolboy into an adult, falls in love with him in a matter of hours, makes out over a jazzy Anand-Milind ditty and when she finds what she came looking for in the first place, reverts the adult into a schoolboy and vanishes. Err... something like that.
Anyway, so one moment, hair's nice and short, then cut to unruly long hair. Rinse, repeat. Hair today, grown tomorrow, anyone?
Will the real Jaggu Dada please stand up?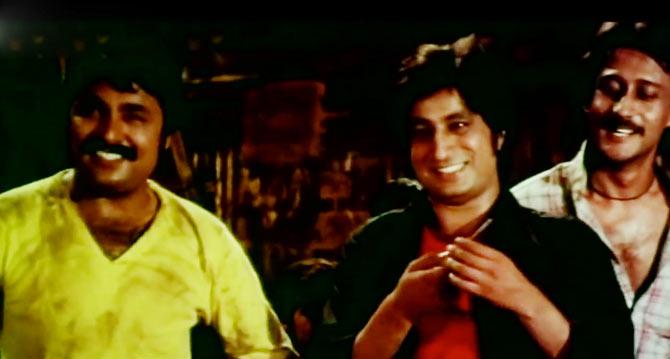 Image: Shakti Kapoor and Jackie Shroff in Swami Dada
Never underestimate the power of a sidekick.
Like can you imagine Jaggu Dada in Swami Dada as sidekick to Jaggu Dada?
Let me explain.
Before hitting the big league with Subhash Ghai's Hero, Jackie Shroff did a bit role as Shakti Kapoor's minion in Dev Anand's Swami Dada.
That Shakti Kapoor plays a character named Jaggu Dada, a moniker Shroff would be fondly identified with for the rest of his career, is not as ironic as our Hero mouthing, "Jaggu Dada ki jagah lena ho toh moonh dho ke aana," in his boss's defense.
As history would have it, Jackie proved he's the daddy of all dadas after he demolishes Shakti, playing his archrival, in Hero.
In RK's arms only!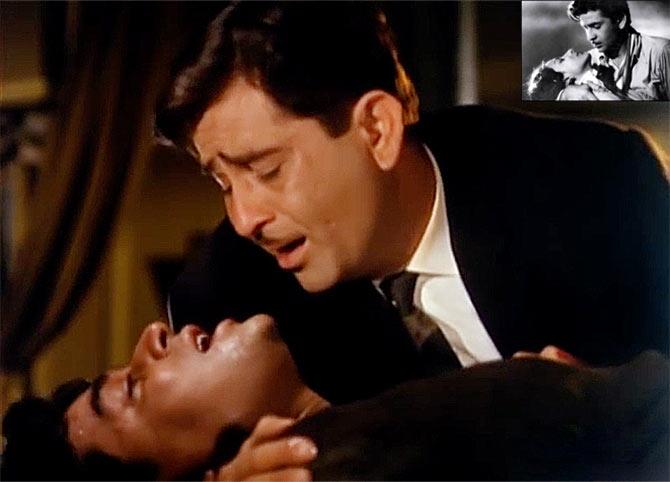 Image: Rajendra Kumar and Raj Kapoor in Sangam
In this lavish saga of bromance-precedes-romance, things reach a point where Rajendra Kumar is compelled to shoot himself in the heart and prove his loyalty to Raj Kapoor. But when you've seen a man die the same way since 1964, it's hard not to notice other things.
Like how is it possible to blabber so much about dosti when there's a bullet doing a Hulk dance in his chest. Like how awfully big his nostrils are. Like how familiar that posture looks.
After all, it's the trademark RK pose, originally featuring the showman and his muse Nargis, unwittingly recreated by these two BFFs.
Orange is the new black?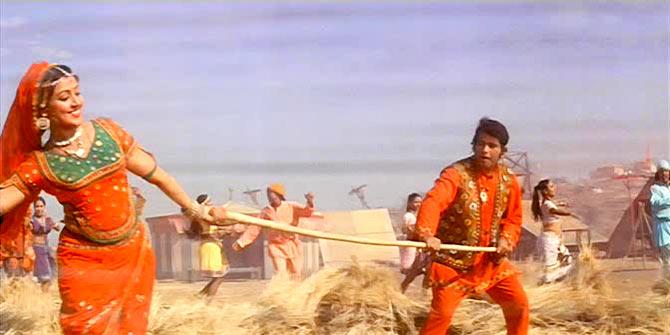 Image: Manoj Kumar and Hema Malini in Kranti
And the award for the most color-coordinated duo goes to Kranti's Manoj Kumar and Hema Malini.
Mr Bharat sure knows how to paint a town in the colour of his patriotism.
Once Upon A Teen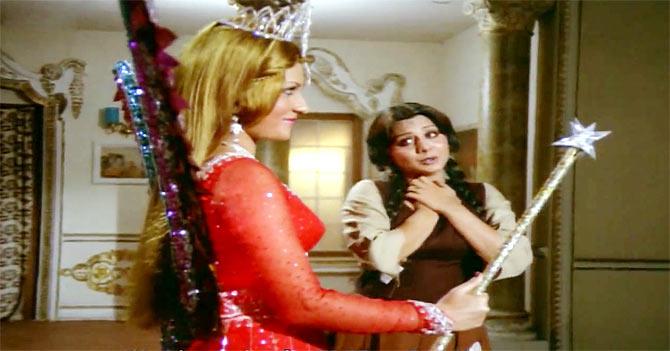 Image: Neetu Singh and Reena Roy in Rani Aur Lalpari
Neetu Singh's healthy Cinderella addresses Reena Roy's blonde Fairy Godmother as Maa in this curious looking still of an obscure children's film, Rani Aur Lalpari.
Born just a year apart (1957, 1958), the Jaani Dushman costar were still in their teens when this movie (1975) came out.
Take your pick between: That young/humbug/confused.