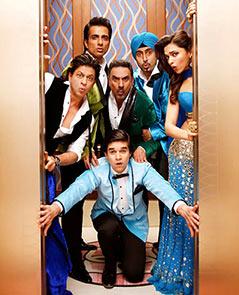 Just how well do heist movies do in Bollywood?
Heist movies are quite popular in Hollywood, and most of the time, they're pretty engaging.
It's not the same here.
Shah Rukh Khan's upcoming movie Happy New Year attempts a heist, and throws in music and dance as well.
Directed by Farah Khan, the film also stars Deepika Padukone, Abhishek Bachchan, Boman Irani, Sonu Sood and Vivaan Shah.
Whether they pull off the heist, we will know this Diwali.
Until then, we look back at how this genre has done in Bollywood.
Cash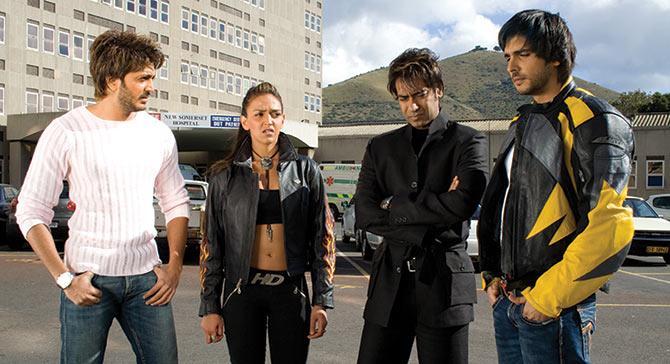 Image: Riteish Deshmukh, Esha Deol, Ajay Devgn and Zayed Khan in Cash
Box office collection: Rs 20 crore
The trailers of Cash looked very cool and stylish.
The cast was exciting too, with Ajay Devgn, Suniel Shetty and Riteish Deshmukh joined by hot ladies Shamita Shetty and Dia Mirza.
But it was so bad, Devgn ultimately disowned it, adding he was happy that the film didn't do well at the box office.
Aankhen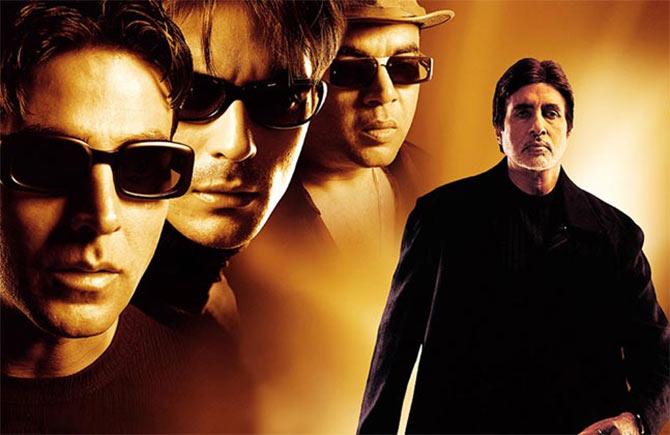 Image: Akshay Kumar, Arjun Rampal, Paresh Rawal and Amitabh Bachchan in Aankhen
Box office collection: Rs 18 crore
One of the most authentic heist dramas in Hindi cinema, Aankhen starred Amitabh Bachchan, Akshay Kumar, Arjun Rampal, Paresh Rawal and Sushmita Sen.
Akki, Arjun and Paresh played blind men, pulling off a cool bank robbery. The film deserves a repeat watch.
Kaante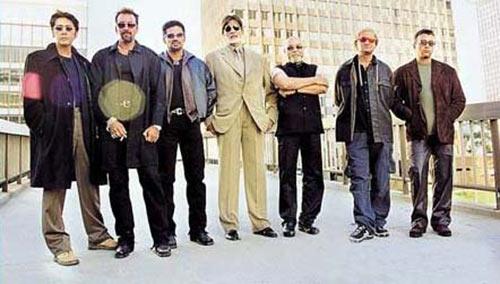 Image: Kumar Gaurav, Sanjay Dutt, Suneil Shetty, Amitabh Bachchan, Mahesh Manjrekar and Lucky Ali in Kaante
Box office collection: Rs 21 crore
Yet another Amitabh Bachchan affair, Kaante was inspired from Reservoir Dogs.
Sanjay Gupta shot the film like a Hollywood thriller, and did complete justice to the genre. The suspense was all there as well.
Players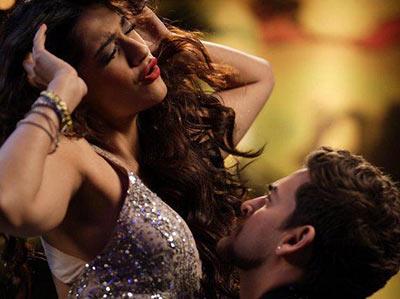 Image: Sonam Kapoor and Neil Nitin Mukesh in Players
Box office collection: Rs 28 crore
An official remake of The Italian Job, director duo Abbas-Mustan called the shots.
No expense was spared to give it a slick and glossy look.
The twists were left intact as well. However, it did not find any takers.
Dhoom series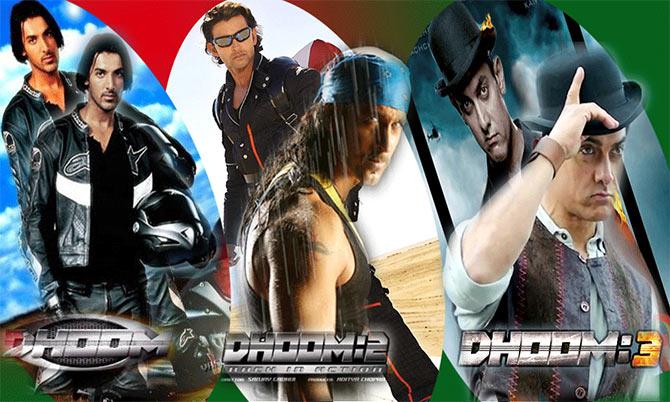 Image: Movie posters of Dhoom, Dhoom: 2 and Dhoom: 3
Combined box office collection: Rs 398 crore (Dhoom: Rs 30 crore, Dhoom 2: Rs 84 crore, Dhoom 3: Rs 284 crore)
Con, thrillers, drama, heist... the Dhoom series had it all.
Every time, the antagonists (John Abraham, Hrithik Roshan and Aamir Khan respectively) managed to achieve what he had set out for and the cops (Abhishek Bachchan and Uday Chopra) are left behind.
Don 2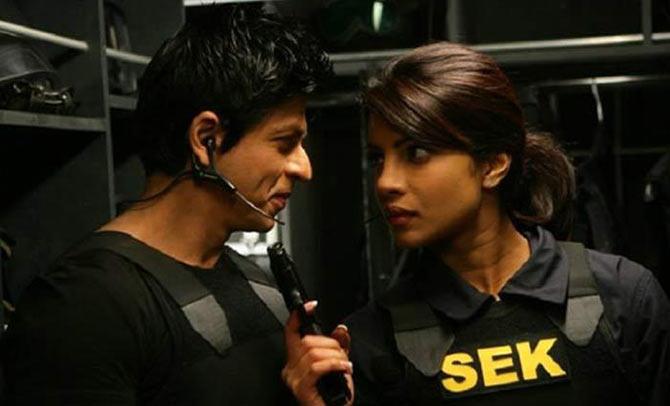 Image: Shah Rukh Khan and Priyanka Chopra in Don 2
Box office collection: Rs 107 crore
Yes, Shah Rukh Khan has done a heist film before.
In Farhan Akhtar's edgy Don 2, SRK's stylish Don took on the cops, and emerged trumphs.
It may not have been as entertaining as the first Don but it was a winner anyway.
Tees Maar Khan
Image: Akshay Kumar and Katrina Kaif in Tees Maar Khan
Box office collection: Rs 68 crore
The concept was good.
A fake movie was being shot, and a train full of goodies would be looted.
Directed by Farah Khan, the film starred Akshay Kumar and Katrina Kaif. Her Sheila Ki Jawani song was a huge hit, and ensured a huge opening.
However, a severe backlash from all quarters pulled it down.
Special 26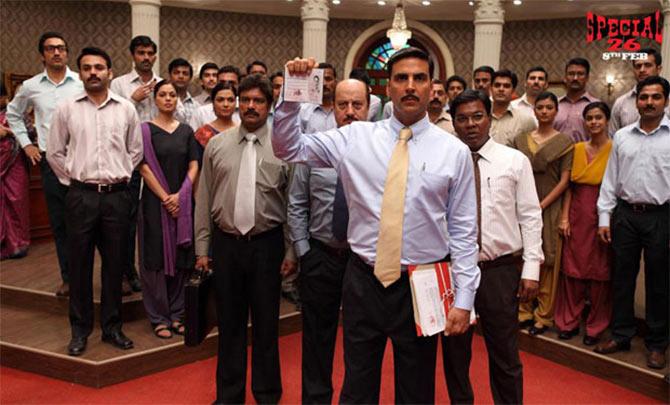 Image: Movie poster of Special 26
Box office collection: Rs 66 crore
Based on a real life incident, a group of crooks posed as cops and looted a jewellery store. Special 26 is one of the most authentic heist thrillers in Hindi cinema.
Akshay Kumar and Anupam Kher were the stars of the show. It was directed by Neeraj Pandey.
Shalimar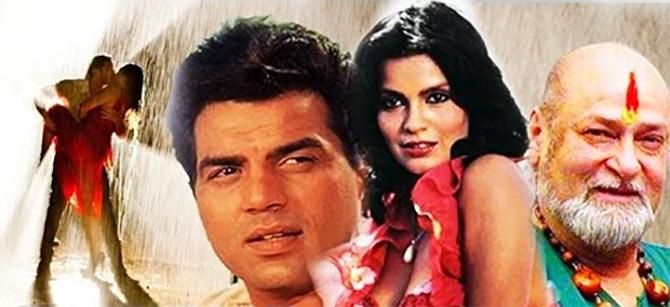 Image: Dharmendra, Zeenat Aman and Shammi Kapoor in Shalimar
Box office collection: Rs 1.5 crore
Dharmendra and Zeenat Aman's Shalimar attempted this genre long before Tom Cruise and George Clooney gave us Mission: Impossible and Ocean's Eleven.
The object of heist attention was a ruby. The film was very fashionable, and had some chartbuster music as well.